Posted by Jonathan Maus (Publisher/Editor) on January 10th, 2012 at 3:55 pm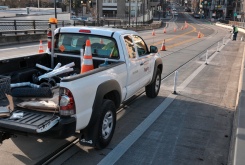 At work on Lovejoy.
(Photos © J. Maus/BikePortland)
PBOT is giving the plastic bollards on the NW Lovejoy ramp another shot. There are 30 or short "wands" installed to keep cars out of the bike lane; unfortunately not more than a few days after they were put in, drivers managed to uproot all but four of them.
A PBOT contractor is out there as I type this re-installing the wands with what agency spokesman Dan Anderson says is a "better method" of attachment. "Our maintenance crews have some techniques for concrete that should make these harder to knock off," he says.
Hopefull he's right. Time will tell (see update below).
Check out more pics below…
UPDATE, 10:05 am on 1/11: So far it looks like the newly installed bollards are holding up well. None of them had been knocked over when I went by this morning…
Jonathan Maus is BikePortland's editor, publisher and founder. Contact him at @jonathan_maus on Twitter, via email at maus.jonathan@gmail.com, or phone/text at 503-706-8804. Also, if you read and appreciate this site, please become a supporter.