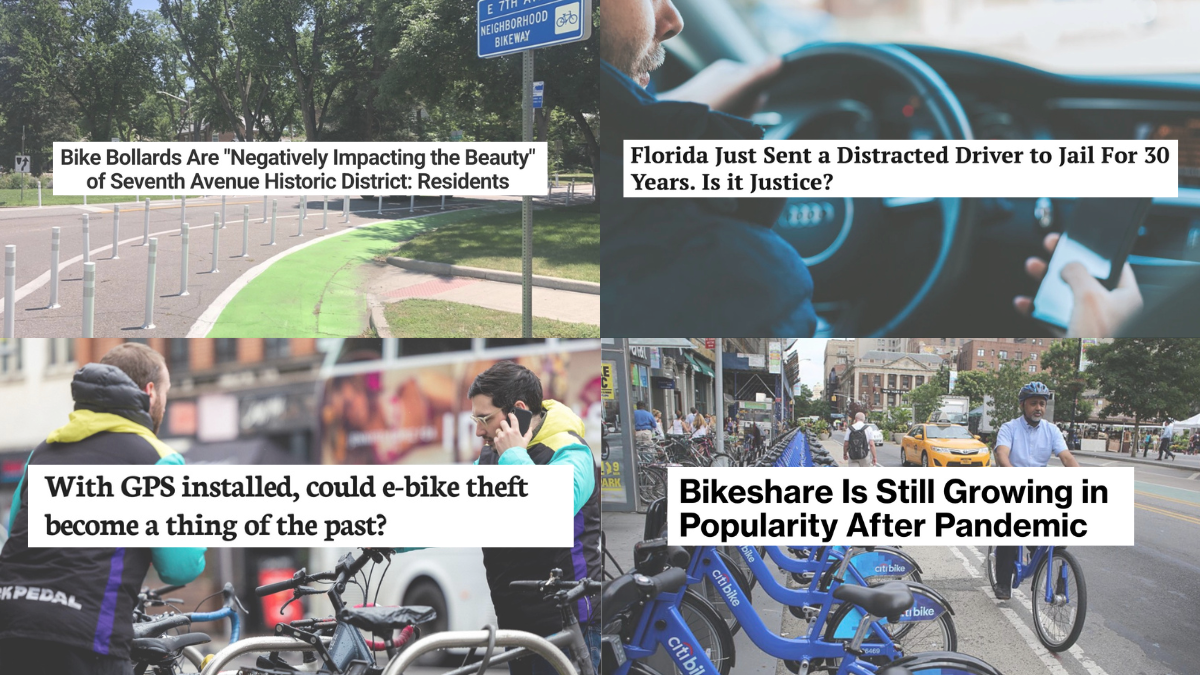 Welcome to the week. Here are the most notable stories our writers and readers have come across in the past seven days…
Wait, before we start, how about a round of applause for Cyclepath Bike Shop (NE MLK Jr. Blvd and Brazee) for being a financial supporter of BikePortland?! Thanks Cyclepath!
Distracted driving sentence: A Florida man got a 30-year jail sentence for using his phone while driving after it resulted in the death of a young boy; but is it a 'win' for traffic safety advocates and will it serve as an example to others? (Streetsblog USA)
Bike boom status: Bike share is plugging along in major U.S. cities and the Covid-era bike boom is proving to have some staying power. (Bloomberg)
Cycling and politics: Fascinating to see how a rightward shift in government in Berlin has impacted the progress of bike advocates and their efforts to re-allocate road space away from car drivers. (The Times UK)
Bus stop bollards: This article is from 2019 but after my op-ed on the killing of Jeanie Diaz last week where I called for protected bus stops, I thought it was notable that a transit provider in Las Vegas installed large steel bollards at 20 bus stops as part of a pedestrian safety pilot program. (RTC Southern Nevada)
Bikes belong: This story validates my belief that until safe cycling networks exist, all state should change vehicle laws to make it clear that bicycle riders are allowed to use sidewalks and crosswalks (except in some very specific situations and locations). (Mother Jones)
Insult to injury: A bike rider in Eugene was given two citations — one for riding the wrong way on a one-way street, another for failure to obey a traffic device — after they were involved in a collision with a dump truck. (KATU)
Time to get tough: I love the framing and thinking behind this op-ed and feel it could easily apply to the automotive industry, where it's time to take off the kid gloves and force companies to be responsible for the impacts of their products. (L.A. Times)
Framing safety: We've reached the point in our traffic culture dystopia where people who choose sensibly-sized cars are being fear-mongered by automotive media because of people who choose absurdly-sized ones. (The Drive)
School cycling safety: This team of advocates in Calgary came together to write reports about the safety of bike routes for 10 different schools to raise awareness of various infrastructure issues. (Calgary Herald)
Congestion pricing lawsuit: You can bet that local DOT officials are following this fight between New York and New Jersey, where the former wants to move ahead with traffic fees and the latter says it's unfair and the sky will fall if they do. (Bloomberg)
Traffication: Latest episode of The War on Cars podcast examines yet another front in the war cars and their drivers are waging against the planet: the threat they pose to wildlife. (The War on Cars)
Ugly infra: This story from Denver resonates with me because some of the plastic post projects PBOT is installing are indeed quite ugly and I could see a Portland neighborhood playing the same card. (Westword)
Next level security: A new outfit in the UK will act as your private bike theft recovery security force, as long as you have a GPS tracker installed. This reminds me of Portland's Timberwolves Cycle Recovery group. (Cycling Electric)
---
Thanks to everyone who shared links this week!