Posted by Jonathan Maus (Publisher/Editor) on January 4th, 2012 at 9:42 am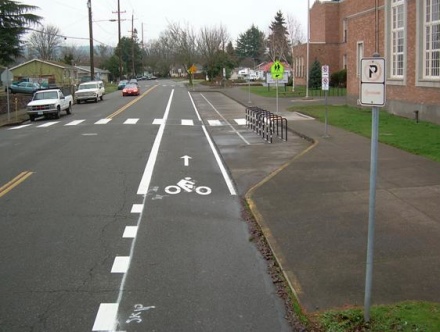 The new bike lane and bike parking in front of Cesar Chavez School on N. Willis Blvd.
(Photo: Gabe Graff/City of Portland)
Biking continues to improve for residents of North Portland. The City just unwrapped a small but important improvement that will improve bike safety during pick-up and drop-off on the main road outside Cesar Chavez School on N. Willis Blvd.
As part of a their Safe Routes to School Program, PBOT engineers identified the lack of a marked crosswalk in front of the school and the lack of bike parking capacity as two key improvements they needed to make. The just-completed project has added a bike corral, a new bike lane, crosswalk striping and signage, and a curb ramp.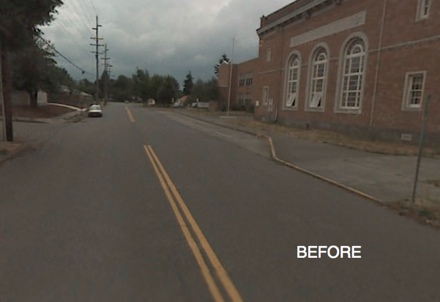 Before improvements were made. (Image: Google Map)
PBOT spokesperson Dan Anderson said the entire project was done for just $5,450 and was paid for with state gas tax funding allocated from House Bill 2001. Here's more from Anderson:
"The goal of this small project was to improve student safety through cost-effective investments in a marked, accessible crossing at the school's front door and additional bike parking that has the added benefit of protecting the marked crossing by preventing drivers from obstructing it."
The project ties into PBOT's North Portland Connector Neighborhood Greenway project.
PBOT has worked with Cesar Chavez School (formerly Clarendon at Portsmouth School) on the Safe Routes to School program since 2007. The program also includes hands-on biking and walking safety education.
In other North Portland news, PBOT has just added sharrows and turned stop signs on N. Bryant Ave between Albina and the Bryant Street Bridge as part of their Bryant-Holman Connector project.
Jonathan Maus is BikePortland's editor, publisher and founder. Contact him at @jonathan_maus on Twitter, via email at maus.jonathan@gmail.com, or phone/text at 503-706-8804. Also, if you read and appreciate this site, please become a supporter.