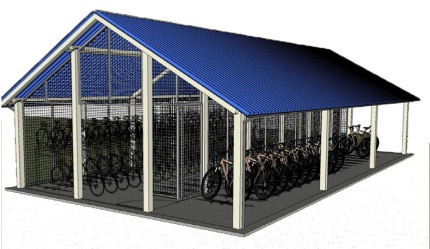 Rendering of Bike & Ride facility coming to Beaverton Transit Center this summer (by Alta Planning and Design).

TriMet is set to break ground on their second of three 'Bike & Ride' facilities this Thursday. Last summer, they opened a Bike & Ride at the Sunset Transit Center and they'll begin construction on a similar facility at the Beaverton Transit Center tomorrow. A third Bike & Ride is set to open this summer at the Gresham Transit Center.
(Photo: Jim Parsons)
Funds for the three projects come from $1.4 million in federal stimulus funds TriMet is putting to use to bolster bike parking capacity and improve existing facilities. When all the projects are done, TriMet will have added 386 new or improved bike parking spaces in the region. TriMet is motivated to improve bike parking not just because the demand exists, but also because they have no intention of expanding bike capacity on their trains or buses.
The Beaverton Transit Center is the busiest is TriMet's system and it also has the highest demand for bike access. With about 19,000 weekday trips on the bus, MAX light rail and WES commuter rail, TriMet estimates that about 12% of those riders arrive by bike. The new Bike & Ride will have parking for 100 bikes, 76 of them secure indoor spaces and another 24 in covered spaces outside the facility. The secure spaces will be accessible by a keycard and will be monitored by security cameras. The price for the keycard is 5 cents an hour.
The facility will also have a repair stand, air pump and bike map. TriMet says they can expand the facility by 56 spaces if demand warrants. TriMet's bike and pedestrian access planner Colin Maher will be on location (4050 SW Lombard) tomorrow (3/10) from 10:00 am to 12:00 pm to answer questions.
Learn more about TriMet's Bike & Ride facilities at TriMet.org.