View of the landslide.
(Photos: Dan Kaufman)
A mutli-use path that connects SE Milwaukie Avenue to the Springwater Trail north of Sellwood is closed indefinitely due a massive landslide.
Early this morning, we received an email from a reader saying that the landslide is completely blocking the trail. "Downed trees, much debris and heavy flooding (more than usual for this section). Most of the hillside came down and there is still a danger from rolling rocks and a precarious tree… this is going to be a big cleanup job."
We notified Portland Parks and Recreation about the issue and spokesperson Beth Sorensen says they have determined that the slide it still active and they have closed the trail completely for the public's safety until further notice.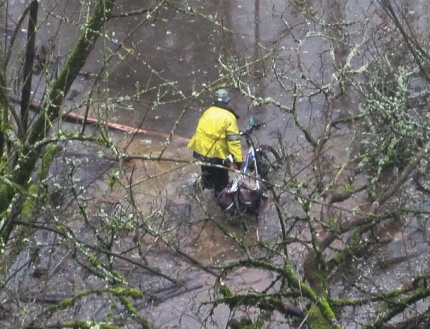 A man tries to get through landslide with his bicycle.
"Until the situation with the landslide stabilizes, our crews can not access the site to begin clean-up of the debris to clear the trail… We're hoping that can begin soon, but there's no way of telling immediately while the rain continues."
The location of this landslide is in the same general area of major flooding that occurred back in December.
Sorensen reminds trail users that there is not alternative detour around this slide. The route options are to either stay on the Spingwater or use on-street routes.
We'll have a photo of the area ASAP and will update this story as we know more.
If you have questions or feedback about this site or my work, feel free to contact me at @jonathan_maus on Twitter, via email at maus.jonathan@gmail.com, or phone/text at 503-706-8804. Also, if you read and appreciate this site, please become a supporter.