There was a serious injury crash just north of Ladds Circle yesterday during the evening commute. At about 5:15, I started getting reports from witnesses about someone on a bike that was being tended to by emergency medical personnel. Here are photos taken at the scene by reader Robby Russell: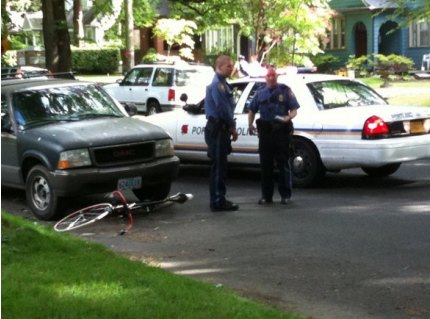 The crash occurred just before 5:00 pm about midway between the traffic circle/roundabout at SE Palm Street and Ladds Circle south of Hawthorne Blvd on Ladd Ave (location on Google Maps). This is a very popular bikeway and the City's most recent counts show over 1,100 bike trips are made near this location (at SE Clay and 12th) each day.
Initially, the PPB informed me that the injuries sustained in this crash were not serious. But, in a follow up email asking for more details I have learned that they are. Police Bureau spokesperson Mary Wheat says the person that collided with the car is recovering from his injuries at a local hospital. The injuries are not life-threatening, but Wheat says "I would consider them serious." (*see update on injuries below.)
Wheat also says the crash happened after the person on the bike attempted to pass other riders. Here's how she explains it:
"The man riding the bike attempted to pass other bicyclists and his handlebars began shaking. He veered into a car and was hit by the car."
The person in the car was traveling in the opposite direction (heading northwest on Ladd). I am still trying to get more precise details from the PPB about what exactly happened and I will update this story when I know more.
Several witnesses have emailed and called me about what they saw…
Rebecca C
"I chatted for a minute with one of the folks who lives on the street and they said that this is the second time in a week that they've seen a collision on the street."
Reader Mike Q. came up on the crash about 30 seconds after it happened:
"Cyclist is a male late 40s to mid 50s, he did not regain consciousness at the scene and seemed pretty severely injured. The driver is a male in 20s or 30s, remained on scene and was being interviewed by police. It must have been a pretty hard impact, it knocked the cyclist helmet and both shoes clean off. Pretty horrifying. I certainly hope he can make a full recovery."
We have discussed and reported on the need for safe passing many times on this site (it's actually one of the subjects of my most recent radio spots) and this crash serves as yet another reminder.
[UPDATE, 7/1: According to a comment below, the injured rider is in a coma with a fractured skull, jaw, and pelvis along with a brain injury.]