Cross section of how SW Moody will look after a $23 million facelift thanks to federal stimulus funds awarded today.
"The cycle track and pedestrian connections are essential elements of this project."
— From a statement about TIGER grant issued today by Mayor Adams
In my report on the federal stimulus TIGER grant announcements this morning, I forgot an important detail about the only project in Oregon to get funded. The $23 million SW Moody and street reconstruction project (a.k.a. Portland's Innovation Quadrant) includes a two-way cycle track.
I wrote about this new cycle track back in June and Mayor Sam Adams' spokesperson Roy Kaufmann reminded me today that these TIGER funds mean the cycle track will now be built.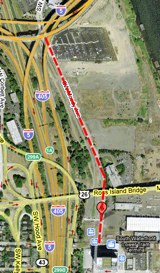 Dashed line shows approximate
location of cycle track.
The grant will allow PBOT to begin a reconstruction of SW Moody Avenue from SW River Parkway to SW Gibbs Street. The new street will carry three standard traffic lanes, dual streetcar tracks, facilities for walking, and a two-way cycle track.
The new cycle track on SW Moody will connect riders to new bike facilities planned on TriMet's new light rail bridge over the Willamette and the future Gibbs Street Pedestrian Bridge.
According to a statement released by Adams today, "The cycle track and pedestrian connections are essential elements of this project." Currently, the only cycle track in Portland is on SW Broadway near Portland State University. Another cycle track is already planned as part of a reconstruction of Cully Boulevard in Northeast Portland.
Construction on the project will begin in fall of this year. For more information visit PDXInnovation.com.
If you have questions or feedback about this site or my work, feel free to contact me at @jonathan_maus on Twitter, via email at maus.jonathan@gmail.com, or phone/text at 503-706-8804. Also, if you read and appreciate this site, please become a supporter.