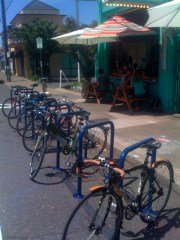 The new bike parking, just
minutes after it was installed.
(Photo: Bryan Steelman)
You've got to love local business owners like Por Que No Taqueria's Bryan Steelman.
In July 2007, when he wanted on-street bike parking in front of his first location on N. Mississippi, he didn't wait for PBOT, he did it himself.
Then, to encourage folks to fill up his DIY bike parking, he gave away a free taco to anyone that showed up by bike. A few months later, when PBOT installed an official bike corral, Steelman was so happy he gave happy hour prices on food and beer to bike riders for over a week.

advertisement
Fueled by taco-loving, bike-riding customers, Steelman has since opened a second location on SE Hawthorne (at 47th). And today, Steelman wrote in to tell us that PBOT crews have just put the finishing touches on another bike corral right in front of his business. It takes up two car parking spaces and has room for 18 bicycles.
Steelman is ecstatic about the new parking. "It's so great for bicyclists, pedestrians, businesses, neighborhoods, communities…the list goes on…so much good for such little cost!" he writes.
To celebrate, Steelman says he'll offer Happy Hour prices any time of the day to anyone who bikes to either of his Por Que No locations today through Sunday (that's $1 off chips/guac and chips/salsa, $.50 off each taco, $1.50 off margaritas, and $.50 off all beers & micheladas & aguas frescas).
So roll over to Por Que No on N. Mississippi (3524 N Mississippi Ave) or on SE Hawthorne (4635 SE Hawthorne) and enjoy the sun, the great tacos, and the bike parking!