The new logo and name was
unveiled last night.
(Photos © J. Maus)
The Portland United Mountain Pedalers (PUMP) are now known as the Northwest Trail Alliance and a new era in off-road advocacy has begun.
PUMP, a group that celebrated its 20th anniversary last year, has gone through big changes in recent months and with last night's unveiling of a new name, new logo, and a new mission statement, the transformation is now complete.
The road to this transformation began just over two years ago. At the May 2007 meeting of the City of Portland's Bicycle Advisory Committee, the lack of off-road trails in Portland was on the agenda. The meeting was packed and Portland's top bike planners and advocates got an earful from a new guard of trail advocates that were fed up with the status quo. They were itching to move the needle.
In May 2008, there was talk and some serious plans made to start an entirely new group (under the moniker of PDX-MTB), but that idea was shelved in favor of integrating this new guard of advocates into PUMP. In February of this year PUMP elected five new board members, thus clearing the way for a new era.
advertisement
Kris Schamp, a former marketing specialist for Bike Gallery who has turned most of his attention to promoting local off-road races under his Portland Racing banner, is one of those new board members. He's also one of three people on the newly formed Executive Team and he's the group's Communications Director.
The new logo.
During his presentation last night, Schamp laid out NWTA's lofty ambitions. Here's their new vision statement:
"Our vision is for Portland and NW Oregon, and SW Washington to become a recognized and acclaimed haven for mountain bikers and off-road cyclists.

… to create awareness and a positive attitude towards all types of off-road cycling; with other trail users; with land managers and agencies; and with the general public.

… to become a role model for ther MTB and trail advocacy groups around the country."
And their mission:
"We are an alliance of mountain bikers and off-road cyclists, dedicated to create, enhance and protect riding opportunities in NW Oregon and SW Washington."
Will Heiberg
Both Schamp — and Will Heiberg, who helped spearhead the creation of a new logo — said the new direction for the group is not meant to wipe away the 20-plus year legacy of PUMP. "We built this upon the shoulders of PUMP," said Heiberg.
Schamp and Heiberg also stressed that they are "building a big tent" that will be inclusive to everyone who uses off-road trails. "If you like putting rubber on dirt," said Heiberg, "we want you to feel welcome in this organization."
Why the new direction and new name? Heiberg explained that "Portland United Mountain Pedalers" sounded too "Portland-centric", the group focused too much on mountain biking (at the expense of cyclocross, urban pump tracks, and even bike commuting on natural surface trails), and that the groups website name, PUMPClub.org "evokes the image of a close-knit club" rather than the inclusive "big tent" they want to create.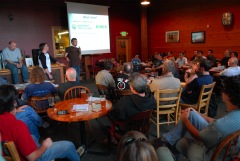 Members were eager to learn
more about their club's
new direction.
There has also been a growing sense among some advocates that PUMP lacked a real connection to Portland's legion's of bike lovers. Despite their 21 year existence, they have just around 200 paying members and only a fraction of those are active.
After the meeting, Schamp said that, "We want to take MTB/off-road bike advocacy in our region to the next level and that the rebranding is just a first step in this transformation into a more inclusive, more professional, and more effective organization."
Under the name of Northwest Trail Alliance, the group's leaders feel they can impact a larger geographic area, embody the "spirit of the Northwest", and be "just as much about the trails as about riding them".
Response to the big changes went over well with most members last night. However, one longtime and very active PUMP member, Jerry Deruyter, expressed several concerns.
Derutyer spoke up during a Q&A after Schamp's presentation. "So you'll just forget about everything PUMP has done!?" he wondered. He also reminded Schamp that all this talk about new energy and a new direction has happened before. While he expressed support for the changes, Derutyer cautioned that these changes won't just happen overnight.
Schamp said he understands the concerns from longtime members like Derutyer. "But," he says, "We see this as a natural growth phase, similar to what Friends of Forest Park went through when they changed their name to Forest Park Conservancy, after being around for 20 years. We hope the new brand and the reorganization will position us for growth and make us more effective advocates."
A slide from Schamp's presentation.
So what's next for the Northwest Trail Alliance?
Today, Executive Team member Joe Barcott travels to Hood River to meet with the regional director of the International Mountain Bicycling Association (IMBA). Northwest is likely to become an official IMBA chapter. If that goes through, IMBA's 1,000 local members will instantly become members of the Northwest Trail Alliance.
The group will also focus immediately on a "Plan for Action" in Forest Park. There's been a lot of buzz around increased access for bicycles in Forest Park, but Schamp says it's been just talk. That's great, he said, "But we want to see some action."
Schamp said there's a plan in the works to revamp a new website is also expected to be unveiled soon at NW-Trail.org. The group will also focus more on outreach to the community by attending local events like Sunday Parkways. The idea, Schamp says, is to "build a community of off-road cyclists."
Gabriel Tiller was at the meeting last night. He said he's most excited about momentum around new Portland area projects like Gateway Green and the possibility of more riding opportunities in Forest Park. "The symbolism of the rebranding I think will go a long way," he said, "A more inclusive approach to trail users – bikers or not – is an amazing step in the right direction."
— Learn more and browse Schamp's presentation on the group's website.