[NOTE: For some reason, the comments on this post were not available when it was first published earlier today (9/30). I've re-published it and moved it up on the page to give folks another chance to comment. — Editor]
---
One of two "bike trains" operated by the Massachusetts Bay Transit Authority.
(Photo by
captaindisko/Flickr
)
Over the weekend, I came across a striking photo (via the Shift email list) of a commuter train in Boston where an entire half of the train had been given over to bike parking.
According to an article in the Boston Globe published in June of 2006, there are 39 bike racks on this commuter rail line. The Massachusetts Bay Transit Authority (MBTA) added a similar configuration on another line in May of this year.
The MBTA says bikes are allowed on these specially equipped trains only on weekends and some holidays.
Here in Portland (and all over the country), our regional transit operator, TriMet, is also struggling to find room for bikes. TriMet has made it clear that they are not going to add bike capacity on MAX trains (newly purchased cars have no increased bike capacity).
TriMet's Carolyn Young in Seattle.
(Photo © J. Maus)
At the recent Pro Walk/Pro Bike conference in Seattle, TriMet's director of communications, Carolyn Young, gave a presentation titled, Bikes and Transit. She said TriMet "values having bikes on board" (one of her slides featured the Zoobombers' Sunday exploits) but added that "it creates a conflict" and "there's not enough space".
On the topic of bike parking at MAX stations, Young admitted that TriMet is "woefully inadequate". Young also said that adding more hooks and more bike capacity on trains is "just not the answer".
On that note, here's a slide from Young's presentation:
(Photo from a presentation given by Carolyn Young of TriMet.)
I was interested to see "may need restrictions in peak" because TriMet has denied any rush-hour bike ban in the past.
Just how big of an issue is bike capacity on MAX trains?
A recent survey conducted by TriMet found that 3.8% of their riders bring bikes on board and that there are an estimated 2,100 bike trips each weekday (including one in 10 riders on the northbound Yellow Line up Interstate Ave.).
Another finding from the survey was that 39% of those who currently take bikes on board said they would drive a car instead if there was no space for their bike. However, during her presentation in Seattle, Young dismissed that particular factoid because a "blog skewed the response…they knew that's what we didn't want to hear."
Ms. Young might be referring to BikePortland.org, but the only thing this blog is guilty of is helping TriMet publicize their online survey (half of the total respondents came from this site).
So, what's next for bikes and TriMet? Here's another slide…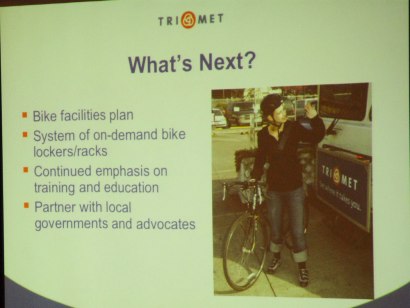 (Photo from a presentation given by Carolyn Young of TriMet.)
So, while some continue to be frustrated about TriMet's unwillingness to explore solutions that would add bike capacity to trains, it's clearly not in their plans at this point. I have also not heard any plans for a large-scale bike parking facility (something similar to the massive motor vehicle park-and-rides they operate).
Instead of individual, "on-demand" lockers (like this one in Vancouver, Washington), I like the direction the MBTA is going.
Earlier this month, they unveiled two new bike parking cages at a transit station. The cages have room for 300 bikes and are accessed via a special card.
(The irony here is that Boston is perennially named as the most bike un-friendly city in the nation.)
While I would love to see TriMet try something creative and bold to increase on-board bike capacity, I also realize that it's TriMet's job is to move people, not bikes. If that's the case, they need to create ample and secure bike parking facilities that encourage more riders to park and ride.
If they don't address the issue, they'll only help perpetuate the feelings expressed by this person on the Shift email list (posted after seeing the Boston bike train photo):
"This is such a totally awesome implementation that I donít see any reason why Tri-Met canít do it. We need to stop making excuses Ė if Tri-Met canít handle the load, they need more trains. If they canít do it on their own, then maybe it needs to be a fully public agency rather than a public-private partnership or whatever the heck they are."