Reverend Phil, shown here after riding
his bike into the Willamette River, is bringing
Bike Porn to Hollywood Theater on Thursday.
(Photo © J. Maus)
Portland's resident bike pornographer is at it again.
For the first time ever, "Reverend Phil" Sano will host a back-to-back screening of The Pornography of the Bicycle and Bike Porn 2: Bikexploitation.
Both films made their debuts during Shift's annual Pedalpalooza event (in 2007 and 2008 respectively) and now Reverend Phil has taken it upon himself to help keep that momentum rolling with a farewell screening this Thursday (10/2) at the Hollywood Theater (4122 NE Sandy Blvd.).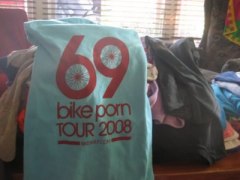 Official tour merchandise.
(Photo: BikeSmut.com)
Following the screening, a crew of sexy cyclists (including the Reverend) will tour across the western United States. The plan is to show the movies, meet up with other like minded bikers, and help to make cycling fun in their cities. Phil says they also plan to take in some of the world's finest mountain biking in Moab, Durango, and Tuscon (among others).
The tour schedule has just been released. Phil says, "If you know of cyclists who are as comfortable with sexual topics as they are with biking encourage them to come to one of the screenings."
And in case you're wondering, there are no DVDs of the movies available for sale and the program is not likely to be shown again.
For the "Westward Ho: Bikexploitation" tour schedule and more information on Phil's growing bike porn empire, visit BikeSmut.com.
(If you're still wondering just what the heck bike porn is all about, you might want to re-visit my report, photos and video from a recent Portland screening. Or, watch a trailer.)