Oregon's largest utility, Portland General Electric (PGE) has launched an effort to improve bike/truck safety. Their sticker campaign follows on the heels of two City of Portland bureaus (maintenance and water) that have also stepped up safety efforts.
Late last month, PGE began installing these bright green and yellow stickers on their trucks that say, "Can I see you?: Be safe — make eye contact" and feature a catchy graphic of a bicycle with eyeballs as wheels.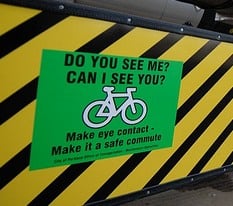 PGE says they took some
inspiration from these stickers on
PDOT maintenance trucks.
(Photo © J. Maus)
According to PGE communications intern Erika Johnson, the project was initiated by PGE's VP of public policy Carol Dillin. Johnson wrote in an email this morning that, "Carol was concerned about recent accidents involving trucks and cyclists (not with PGE trucks, Dillin says they're accident-free) and wanted to make sure PGE did everything to help prevent future accidents."
In a recent customer newsletter, PGE's fleet manager Jeddy Beasly said,
"By placing the stickers on our vehicles, we will bring awareness to our employees of the risks that come with sharing the road…they'll also serve as reminders to drivers to be aware of the growing numbers of cyclists on the road."
PGE says they've also mailed out the stickers to area bike shops and they are considering setting up an online form where interested folks can request one for themselves.
The City of Portland Bureau of Maintenance has similar stickers on many of their trucks as part of their ongoing bike safety measures and the Water Bureau has also made considerable efforts in this regard.
It's good to see PGE getting involved. Which company will be next?
If you have questions or feedback about this site or my work, feel free to contact me at @jonathan_maus on Twitter, via email at maus.jonathan@gmail.com, or phone/text at 503-706-8804. Also, if you read and appreciate this site, please become a supporter.