Posted by Jonathan Maus (Publisher/Editor) on September 17th, 2008 at 1:55 pm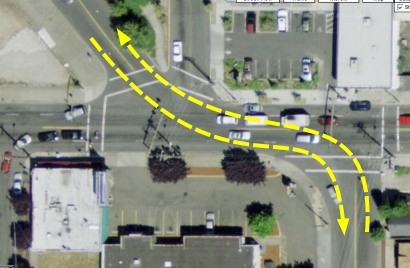 The City of Portland will unveil new design ideas for the 7 Corners intersection at a workshop next month. The yellow lines show a popular bike route.
Calling it a "confusing and challenging place to navigate for everyone," the City of Portland's Bureau of Planning and the Office of Transportation are coming together to re-design the infamous 7 Corners intersection in Southeast Portland (Google Map).
The intersection — where Ladd Ave., 20th Ave. and 21st Ave. all converge on SE Division St. — lies on a major bikeway corridor and is a barrier for people traveling from the popular Clinton Street bike boulevard (which is undergoing a cosmetic redesign itself) onto the Hawthorne Bridge into downtown.
According to a statement on PDOT's website, the goal is to, "craft a plan" for the intersection that "will make it safer for pedestrians and bicycles and transform the intersection into a neighborhood center."
Construction and repaving is scheduled to begin in Spring 2011 and a community workshop where design alternatives can be viewed is planned for October 6th.
Learn more about the project and get workshop details here.
Jonathan Maus is BikePortland's editor, publisher and founder. Contact him at @jonathan_maus on Twitter, via email at maus.jonathan@gmail.com, or phone/text at 503-706-8804. Also, if you read and appreciate this site, Jonathan hopes you'll become a supporter.