Posted by Jonathan Maus (Publisher/Editor) on May 27th, 2008 at 11:15 am
Greg Raisman wants to make the bike corrals
on SE Belmont a bit more pleasing
to the eye.
(Photos © J. Maus)
By the end of this summer, sculpted sunflowers will adorn the on-street bike parking (PDOT calls them "bike corrals") on Belmont Street.
The project is community-wide effort being spearheaded by Greg Raisman, a Sunnyside neighborhood resident who was also instrumental in the creation of Portland's first bike corral at Mississippi and Shaver streets in North Portland.
According to Raisman, the Belmont Bike Art project will bring six sunflowers (which happen to be the official symbols of Sunnyside Neighborhood) to the existing bike corrals on Belmont at SE 33rd and 34th streets. Raisman is working with local artists and business owners to fund and carry out the project.
The plan is for everyone in the community to draw up their own designs for the sunflowers and then let the community choose which designs should be turned into reality.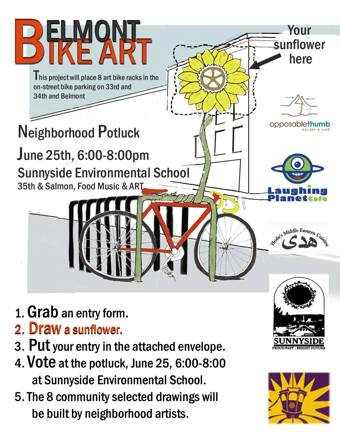 Last week, Raisman delivered little stands with pencils, paper, and instructions on how to participate to eight locations in the immediate area (see list below). "Anyone can draw as many flowers as they'd like," says Raisman.
Once all the designs have been collected (deadline is June 18th), they will all be displayed at a potluck event on June 25th at nearby Sunnyside Environmental School.
Attendees of the potluck will vote on their favorite drawings and the top six vote-getters will be turned over to a team of four neighborhood artisans who will then build the sunflower racks. The artists are cargo trike designer Bill Stites, sculptor Matt Proctor, bicycle builder Sacha White, and sculptor Tim Yohman.
Raisman says support from local businesses has been key to making the project happen. Richard Satnick, owner of Laughing Planet Cafe has given several thousand dollars to the project and Hoda's Middle Eastern Cuisine has also contributed.
Stay tuned for a look at the winning designs and see the list below for locations where you can submit your sunflower design.
Sunflower Art Drawing/Submission Locations
Laughing Planet Cafe (3322 SE Belmont St) – on counter near front windows
Opposable Thumbs (3312 SE Belmont St) – on the long study table in the hang out room
Aalto Lounge (3356 SE Belmont St) – on the counter in a visible spot in the back of the bar
It's a Beautiful Pizza (3342 SE Belmont St) – hanging next to the Portland Mercury rack
Stumptown Coffee (3356 SE Belmont St) – hanging on a pillar as you walk into the shop
Propaganda Salon (821 SE 34th Ave) – on front counter
Side Street Tavern (828 SE 34th) – on bulletin board near bathroom
Hoda's Middle Eastern Cuisine (3401 SE Belmont) – hanging inside
Sound Grounds (3701 SE Belmont St) – on counter near cash register
Paradox Cafe (3439 SE Belmont St) – on display table next to counter