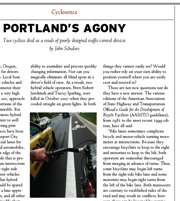 In the April issue of Adventure Cyclist magazine, technical editor John Schubert writes that "poorly designed" bike lanes were to blame for the recent deaths of Tracey Sparling and Brett Jarolimek.
In, Portland's Agony: Two cyclists died as a result of poorly designed traffic-control devices, Schubert uses his monthly Cyclesense column as a pulpit to slam PDOT bicycle coordinator Roger Geller and find fault with the current direction of bikeway design in the most bike-friendly city in America (the article is not available online, but you can download a PDF here — posted with permission from Adventure Cyclist Magazine.)
Schubert is opposed to Portland's bikeway design philosophies in general (more on that later). But specfically, in this article, he claims that Oregon law (which requires you to ride in a bike lane when one is present), Portland's bike lane designs (striping them solid all the way to the intersection), and his own preferred riding style (leaving the bike lane at intersections to get on the left of right-turning cars) are at odds with each other.
In the same issue, Geller counters Schubert's piece by pointing out that Portland is "on the right track" and that "our numbers speak for themselves" (when he wrote his response, Geller didn't know that Portland would be the first major U.S. city to earn the League of American Bicyclists' "Platinum" designation).
With his article, Schubert is doing a disservice to his readers by oversimplifying the situation and by stretching reality to help further his fight in an idealogical battle on the future of how bikeways are designed in America.
Yes, some Portland bike lanes are striped solid all the way to the intersection; and yes, Oregon law requires that you use a bike lane when it is present (but with exceptions); and yes, being on the right of a right-turning vehicle is a bad place to be.
But.
Portland engineers and bike planners have made a conscious decision to keep motor vehicles out of bike lanes whenever possible — instead of allowing them to merge into the bike lane prior to making a right turn. Striping a bike lane all the way to the intersection and making it illegal for cars to enter the bike lane means that, according to PDOT, there is only one conflict area to manage and educate around, versus an unpredictable, "conflict zone" that occurs if you allow cars to swoop over any time they'd like.
Another, more practical reason Portland approaches this problem differently than other cities is due to short block faces. If cars could merge into the bike lane prior to an intersection, cars would form a long queue directly in the bike lane in some situations.
[Note: This bike lane debate was first brought up in Portland by former Traffic Division Lieutenant Mark Kruger in November of 2006 and was brought up again immediately following the death of Tracey Sparling.]
As for Oregon law, what Schubert fails to mention is that there is ample language that allows bicyclists to leave the bike lane if they feel unsafe. Mark Ginsberg, a Portland attorney who has worked on hundreds of bike/car collision cases says Schubert's argument is a "red herring" and that he's "over-reading the law to reach his desired outcome."
Ginsberg also points out that if someone on a bike is approaching an intersection and sees a car they think might turn right, the person on the bike can simply adjust their speed accordingly until the potential conflict passes.
Schubert makes it seem like Oregon law requires bicyclists to pass on the right of a right-turning car — but that is simply not an accurate characterization of the law (although it does make for a sensational soundbite).
To say that the design of Portland's bike lanes caused the deaths of Tracey Sparling and Brett Jarolimek is a grossly irresponsible conclusion and an oversimplification of a complicated situation.
So what's really going on here? Why such a strongly worded column in a magazine that's usually devoted to extolling the pleasures of bike touring? Even the editor of the magazine, Mike Deme — writing in his letter to readers at the beginning of the issue — said he was "uncomfortable" printing the article but only did so after "many conversations" with Schubert.
So why was Schubert so intent on publishing this article? Is he genuinely concerned for the safety of Adventure Cyclists' readers and intent on warning them about the imminent peril they'll face if one of their bike tours comes through Portland? I don't think so.
Entirely more likely is that Schubert — with Portland gaining national attention for "Platinum status" and innovative bike facilities — saw an opportunity to promote his vehicular cycling (a.k.a. VC) philosophies and he used two tragedies and his editorial position to push his agenda (more on VC below).
In addition to being technical editor at Adventure Cyclist, Schubert is a well-known stalwart of the vehicular cycling philosophy of bikeway design and riding practice.
He's also part of a coalition called LAB Reform which is pushing to reverse the current direction of the League of American Bicyclists (the most visible and largest national bicycle advocacy organization in the country) and change the way bikeway design and planning is headed in the U.S..
Schubert's column is just the tip of the sword in a prolonged duel for the hearts and minds of American cyclists, bike planners and traffic engineers. It's being waged by a persistent and vocal group (commonly referred to as vehicular cyclists) who favor equal integration of cars and bikes (instead of finding ways to separate the two modes) and think anyone who throws a leg over a bike should be highly trained to play on a level playing field with motor vehicles.
On the other side of the battlefield are bike planners and traffic engineers who use successes seen in cities like Portland, Amsterdam, and Copenhagen as their guide and see a direct correlation between building bike-specific infrastructure (like bike lanes, traffic-calming, bike-only signals, bike boxes) and increased ridership. On this side of the battle, the thinking is that, "if you build it, they will come" and to acknowledge the differences between bikes and cars while trying to make the experience for both as comfortable, safe, and efficient as possible.
Bike boxes provide a perfect allegory to compare and contrast these two fields of thoughts.
Vehicular cyclists despise bike boxes. When it became clear Portland would embark on the most ambitious bike box program to date, one vocal VC supporter, Bob Shanteau, wrote a letter to the FHWA in opposition to Portland's plans. He even threatened to sue PDOT on grounds that the treatment was illegal because it was not yet official approved by the Manual of Uniform Traffic Control Devices (the standards guide used by traffic engineers).
Like in Schubert's piece, VC supporters tend to consider outdated and car-centric federal guidelines (which have helped contribute a national bike commute mode share of less than 1%) as rigid commands of engineering practice that should not be veered from.
On the other hand, you've got planners (like Roger Geller) and engineers (like PDOT's head honcho Rob Burchfield) who have repeatedly pushed the boundaries of federal guidelines (with blue bike lanes, sharrows, and most recently with bike boxes), and have even gone over them at times. However, they do so only after careful consideration and with thoughtful execution of these innovative design treatments.
The result is that Portland has become the most bicycle-friendly city in the country. By contrast, in places where vehicular cyclists have run amok — like Boston for instance — the conditions for biking are deplorable and the mode share (the percent of people who bike to work) hovers near 1%.
Boston was recently named one of the worst places to bike by Bicycling Magazine (although of late, with new leadership, Boston is looking to improve — using cities like Portland as an example no less).
On the surface VC doesn't seem like such a bad concept. Learn the rules of the road (even though most of them are written for motor vehicles, not bikes), ride defensively, take extensive training courses on how to ride in traffic, never rely on paint to keep you safe. All good ideas that I think we can all agree on.
But VC advocates are not happy to just share their knowledge with others. Instead, they are intent on challenging other ideas to the extent of writing misleading editorials, threatening lawsuits, and conspiring against efforts that are showing clear success in getting more people on bikes.
This entire scenario will be argued over incessantly (much like the debate around helmets, fixed gears, etc…), but the reality is that there is no silver bullet to ensure we have zero conflicts between bikes and cars. No system of laws, design policies, or riding practices will ever prevent crashes from happening.
Debates are healthy. We need them. But one thing we shouldn't argue about is that we need as many people as possible to ride bikes. More numbers give us the essential political and social clout we need to finally begin to tip the scales toward more human-powered traffic in this country (not mention saving our planet, making everyone healthier, etc…).
I'm open to any and all ideas on how to make that happen, but I'm much more likely to listen (and agree with) those ideas that have shown clear results and are put forward by recognized leaders in the traffic engineering bike planning professions who are passionate about the safety of all types of bicyclists — whether they are highly skilled at negotiating traffic, or just out for their first trip to the market because they're fed up with the high cost of fuel.
Personal agendas, power struggles, business-as-usual, and idealogical battles will only serve to distract us from the huge task before us.