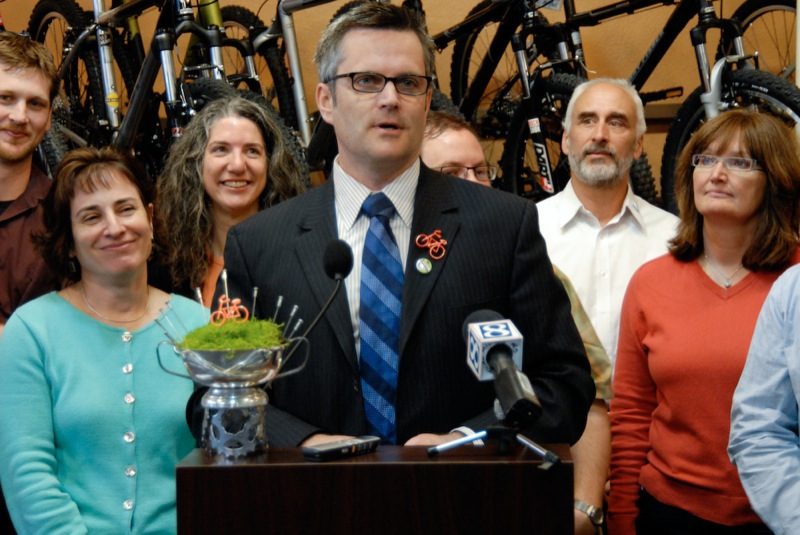 The mix of attendees at today's press conference illustrated one of the main reasons Portland has catapulted above all other American cities on its way to achieving Platinum. We have stitched together a diverse coalition of activists, agencies, companies, advocates and organizations — all working together to move biking forward.
The first speaker at the podium today was Diane Chalmers, Vice President of Chris King Precision Components. She said they relocated their business from Redding, California to Portland precisely because we hold biking in such high regard.
Bike Gallery employees crafted
this special Platinum Award,
which was presented to
Commissioner Adams.
Police Chief Rose Sizer — who showed up with her Assistant Chief and the Commander of the Traffic Divsion — spoke about how pleased she has been with the sense of partnership between her officers and the community.
Scott Bricker, the Executive Director of the Bicycle Transportation Alliance, said the accomplishment is far from the pinnacle of our potential. "This is base camp Platinum…like being a first-degree black belt."
David Bragdon, Metro (a regional planning agency) Council President, spoke of Portland's commitment to bike facilities as an essential hub that will someday connect downtown to destinations all over the region in a seamless network of paths and trails.
Oregon State Senator Ginny Burdick spoke of how Portland is helping to push the envelope of bike-friendly legislation down in Salem.
Also on a statewide note, Oregon Transportation Commission Chair Gail Achterman said Platinum is not just important for Portland but "an important statement for our state."
Speakers at the event credited a rich legacy of political and civic leadership for getting us to this point. In a press release on the award sent out by PDOT, city bicycle program coordinator Roger Geller said,
"We're celebrating three decades of consistently applying policies that promote bicycling and our third consecutive year of double-digit growth in bicycle ridership in the city. Portland is doing everything we can with our limited resources to create safer conditions for cyclists. The job isn't done."
Portland's work is unfinished, but this award is meant to recognize how far we've come and what it took to get here.
League of American Bicyclists' Andy Clarke put it this way,
"Portland has had the courage to lead, to innovate, and to pursue a vision of their community that emphasizes choice, equity, and quality of life. Platinum status isn't forever. We recognize that compared to other world-class cities for cycling, Portland still has a long way to go."
And with that, the League offered these recommendations for Portland to maintain its coveted Platinum ranking:
Ensure better access to city parks and recreation areas for off-road riding;
Strengthen ties to the police and enforcement community to ensure motorists and cyclists are following the rules of the road and held accountable for their behavior;
Increase investments in the city's bikeway network, particularly bike boulevards and signature projects that overcome major barriers, to open up the city to cyclists of all abilities; and
Continue to innovate and demonstrate leadership with projects such as the new bike boxes, colored bike lanes, and Sunday parkways program.
While infrastructure projects and city-backed programs tend to get most of the limelight, we can't forget the tremendously active, creative, and effective grassroots activism and culture that has sprung up around bicycling in Portland.
From the streets to City Hall — here's to Platinum. Now what's next?
=======
— More photos from today's event here.
— See Portland's new Platinum page at BikeLeague.org.