Posted by Jonathan Maus (Publisher/Editor) on April 5th, 2008 at 3:54 pm
As I mentioned in my previous story, participants in today's Oregon Bike Summit broke off into brainstorming sessions today that were focused around three topics: transportation, recreation, and industry.
Their mission? To determine the top five priorities for action in each of them. In lieu of retyping them all, below are the slides that a representative from each group presented during a discussion among the entire summit: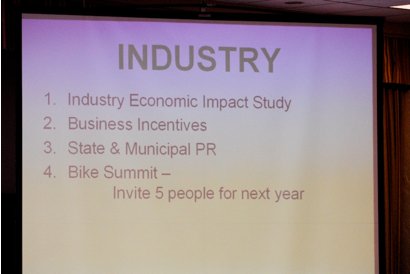 What do you think of these priorities?
=====
Things are wrapping up here at the summit. If I can muster it, I'll do a final wrap-up sometime tonight.
— Check out all the other coverage here.
— See all the photos here.