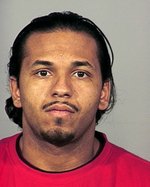 Rodney Arreguin has pled guilty
to numerous charges,
including assault of a woman
on a bike in Northeast Portland.
Back in December, Katie Hughes was riding her bike in Northeast Portland when a man in a car drove up beside her, pushed her to the ground, robbed her, threatened to kill her, and then sped away.
The suspect, Rodney Arreguin, was implicated in a string of similar brazen robberies and assaults over a two-day span and was arrested by the Portland Police a day later.
Now, the Multnomah County District Attorney's office informs me that Mr. Arreguin has pled guilty to five counts of robbery, attempted kidnapping, felony hit-and-run, assault, and reckless driving.
He will be sentenced on April 14th in downtown Portland.
Jonathan Maus is BikePortland's editor, publisher and founder. Contact him at @jonathan_maus on Twitter, via email at maus.jonathan@gmail.com, or phone/text at 503-706-8804. Also, if you read and appreciate this site, please become a supporter.