[Editor's note: This article was written by new BikePortland contributor Jessica Roberts.]
Did you park your bike at a rack outside your favorite store or café recently? If so, you might have been using facilities paid for by Portland's Bicycle Parking Fund.
Created in 2004, the Bicycle Parking Fund is one of several tools being used by the City of Portland to make sure that cyclists have a place to park their bike once they get where they're going.
Here's the basic gist of how it works: Every new or renovated building is required to provide a minimum amount of short-term bike parking. The building owner or developer may either meet that requirement by installing bike racks themselves, or by paying into the Fund. Developers must pay into the fund based on how many spaces are required under the code for a development of that size.
So far, the Fund (which currently has about $200,000 available) has only installed staple racks (see map of current and planned installations below), but in the future, city of Portland bike coordinator Roger Geller says the money might also be used to install larger racks, such as bike oases or on-street corrals.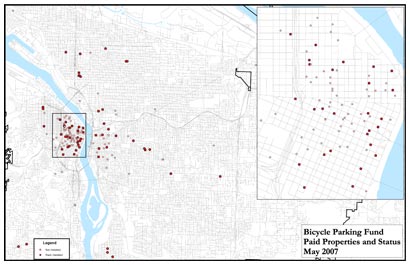 "Bicycle Parking Fund: Paid Properties and Status, May 2007". Graphic: PDOT.
Click to enlarge
Geller says one key aspect of the Bike Parking Fund is that it provides more flexibility for property owners,
"Our goal is to provide short-term bike parking in a way that both meets code and makes sense for the property owner."
Geller adds that racks installed through the fund must serve the building who initially paid into the fund, "the idea is to install racks as close to the building as possible."
Former Bicycle Transportation Alliance (BTA) Executive Director Catherine Ciarlo says the goal of the fund was to make bike parking convenient and generate revenue,
"The idea was that the fund would generate enough to put staples in the right-of-way within 50 feet of main building entrances, thus meeting the code requirement, and some extra to help PDOT fund higher-dollar projects that would actually provide covered parking in the right of way in some locations (i.e. on curb extensions)."
(File photo)
In 2004, with Ciarlo at the helm, the BTA took aim at the former short-term bike parking code. They documented a number of instances where the code was either ignored or was implemented in such a way as to be unusable, especially in newer Pearl District developments where developers were extremely reluctant to sacrifice valuable space in front of their buildings for short-term bike parking.
According to Ciarlo, a task force (which included developers, the BTA, PDOT, the Bureau of Development Services, the Portland Business Alliance, and others) was formed to address this issue and the result was compromises on all sides.
In addition to creating the Bike Parking Fund (also known as a "fee in lieu" system), she remembers that,
"We (bike advocates) gave up the code requirement that short-term parking be covered. The developers agreed to include the language prohibiting the installation of short-term parking in a parking garage."
Erik Mitchell has volunteered with the BTA since 2005 to monitor development applications for compliance with the short-term bike parking code. He says,
"Since the fund has been established, I would consider compliance to be good—not great, but good (say 4 out of 5)."
According to Mitchell, the large-scale projects (such as the Brewery Blocks) have always been good about meeting code, but the new code has really helped with mid-sized projects (such as a Starbucks remodel).
He points out that installing racks isn't always the end of the story,
"There are some who do the install, but access and upkeep are lacking, so we need the bike community to help be the eyes to let us know when there's a problem."
Mitchell points out that code only deals with minimum requirements, and doesn't help when demand exceeds what the code requires.
As Portland grows up as a bike city, the Bike Parking Fund will continue to be an important tool to ensure that cyclists will always have a convenient, accessible place to park.