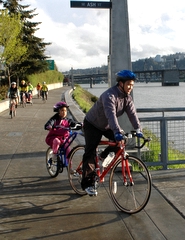 [The Eastbank Esplanade]
KGW reports that Sunset Magazine, which bills itself as "The Magazine of Western Living," has ranked the "Willamette River Loop" the fifth best bike ride in the (western) U.S.
Fifth place wouldn't be so bad, but we're behind a trail in Los Angeles, California…ouch! (I can make fun of L.A. because I'm a sort-of former resident).
Here's the complete list.

1. Albuquerque, New Mexico: Paseo Del Bosque Trail
2. Boulder, Colorado: Boulder Creek Path

3. Denver, Colorado: Cherry Creek Trail

4. Los Angeles, California: South Bay Bicycle Trail

5. Portland, Oregon: Willamette River Loop

6. Salt Lake City, Utah: Jordan River Parkway Trail

7. San Francisco, California: Bike the Golden Gate

8. San Jose, California: Los Gatos Creek Trail

9. Seattle Washington: Burke-Gilman Trail

10. Tempe, Arizona: Rio Salado Paths