Tuesday, May 21st, 2013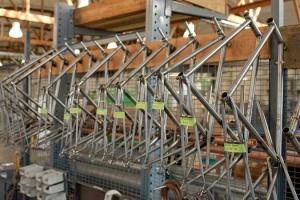 Bicycle frame and component manufacturer
Chris King Precision Components employs over 100
people in northwest Portland.
(Photo: Chris King Precision Components)
Earlier this month we learned that bicycle-related travel pumps $400 million into Oregon's economy each year. Now Travel Oregon, the state's tourism development and marketing organization, has embarked on the second part of that research project: a comprehensive look at the economic impact of bicycle-related industry.
Travel Oregon released the Bicycle Industry Survey yesterday to begin data collection for the study. Here's more from them from the email announcement:
The bicycle industry in Oregon is a unique and growing part of our economy. To get a better handle on the size, characteristics and growth of this industry, a research project has been launched to gather current data that is not available from any existing sources.