Posted by Jonathan Maus (Publisher/Editor) on February 22nd, 2010 at 1:05 pm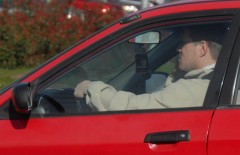 (Photo © J. Maus)
The Portland Police Bureau issued 384 citations and 31 warnings for violation of Oregon's new cell phone law during the month of January. The law, which makes it a primary offense (meaning cops do not need any other reason to pull you over) to hold a cell phone to your ear while driving, went into effect on January 1st.

Police Bureau Traffic Division Captain Eric Hendricks shared these statistics with BikePortland and said that his officers are "having to look pretty hard for violators."
"Our officers are looking for violators of this law but apparently more drivers must be in compliance as we are not seeing as many folks driving and using their cell phones. We hope this trend continues."
A ticket will set you back $142, but Hendricks says his officers are referring violators to the Share the Road Safety Class. "We [Traffic Court judges and the Traffic Division] think the educational value drivers obtain from attending the class outweighs any financial sanction a violator might receive from a guilty plea."
Earlier this month I wondered whether or not this law applied to people riding bicycles. Hendricks doesn't think so. "As I read the bill it applies to the operators of motor vehicles only. I read nothing... that refers to bicycles."
Email This Post
Possibly related posts