Posted by Jonathan Maus ( Publisher/Editor ) on March 27th, 2008 at 4:00 pm
Buses, cars, big-rigs, trucks, light rail, bikes, pedestrians — Portland's roads are in high demand, and it's about to get even more crowded.

In case you haven't heard, the City of Portland is expanding our streetcar system. They've just announced a series of workshops to gain community feedback and to present which routes they're considering as part of their "big picture" Streetcar System Plan.
I'm all for mass transit — after all, having more people in streetcars means less cars on the road — but I also know that any additional use of the roadway, especially one that requires dedicated infrastructure (that likes to gobble up bike tires), needs to be planned for in a way that doesn't negatively impact biking conditions.
You might think that the City's streetcar planners and bikeway planners are walking hand-in-hand, joined together in common cause for a more sensible transportation future — but that's not exactly the case.
A major story about the city's streetcar plans made it's way into the Oregonian today and there was no mention of how the bike network might be impacted.
Unfortunately, in the past years, bike advocates have cried foul at how streetcar plans have been carried out with less-then optimum results for cyclists. The fact is, streetcar infrastructure will alter the roadway in a major way and bicyclists must speak up and be a part of the planning process to make sure it co-exists with both the existing and future bikeway in a sensible, safe, and efficient way.
To get an idea of what's at stake for cyclists, check out the map below. The lines in green are routes that PDOT is still considering as streetcar lines: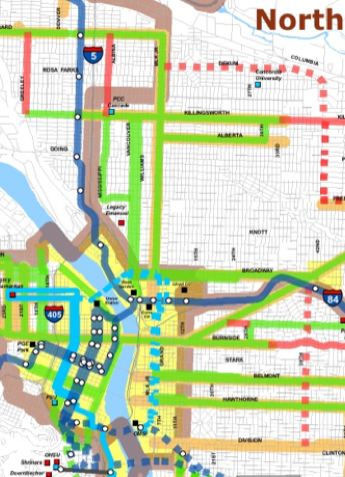 A quick once-over reveals that many of those streets currently have bike lanes or are designated as official city bikeways. Will the streetcar network be designed to play nicely with bikes? That will be (mostly) up to Portland Streetcar Inc. (PSI).
"The highest concentration of cycling in Portland occurs in old Streetcar neighborhoods. Now we're going to create new Streetcar neighborhoods and main streets."
–Chris Smith, Chair of Portland Streetcar Inc. (and City Council candidate)
PSI was selected back in 1995 as the developer of Portland's streetcar system. They work with PDOT to design, build, operate and maintain streetcars. They also have a Citizen's Advisory Committee that is chaired by none other than blogger, activist, biker, and City Council candidate Chris Smith. I asked Chris for some insight on the streetcar/bike equation.
Smith is an ardent streetcar supporter and he says that while they offer "great potential for bikes," he also admits that they present challenges.
On the plus side, he says that more streetcars will bring a "less auto-dominated environment," to our city. Chris also says that streetcar development leads to denser, more well-connected neighborhoods — exactly the type of context where bicycling thrives.
Chris Smith
Or, as he puts it, "The highest concentration of cycling in Portland occurs in old Streetcar neighborhoods. Now we're going to create new Streetcar neighborhoods and main streets."
But Chris also points out that "physical interaction issues" exist between streetcars and bikes. He's referring, of course, to something many of us are all-too familiar with — getting our tires caught up in streetcar tracks. To minimize this and other conflicts with bikes, Chris says PSI is learning new design methods that improve with each new extension they complete.
To develop bike-friendly streetcar designs, Chris says, "we still have a long way to go, and we need people who are passionate about both modes to help us figure this out."
That's where you come in!
Consider attending one of the upcoming workshops to learn more about streetcar plans and to weigh in with your concerns and feedback.