Posted by Jonathan Maus (Publisher/Editor) on November 1st, 2007 at 3:14 pm
With all the talk of increasing education (on both sides of the windshield) lately, I thought I'd pass along a photo and the story about a new highway billboard that just went up on a rural Oregon highway.
It might be helpful for people to learn about how this came about, in case anyone is working on a similar effort here in Portland (in light of recent tragedies).
I got this information from the Oregon State Police email notification system I subscribe to. Below is the photo, followed by the press release...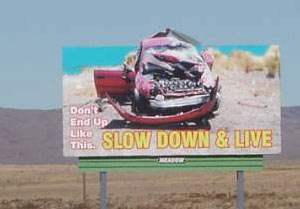 News Release from: Oregon State Police
TRAFFIC SAFETY SIGN PLACED ON HIGHWAY 95 REMINDING DRIVERS "DON'T END UP LIKE THIS" (PHOTOS)

Traffic safety partners in Malheur County hope that a billboard placed on Highway 95 north of McDermitt near the Oregon / Nevada border will be a reminder to travelers using this rural southeast Oregon route and reduce serious injury and fatal crashes.

Working in cooperation with Meadow Signs and a local property owner who agreed to place the safety billboard on her property, the Malheur Traffic Safety Commission developed the billboard with a fatal crash scene photograph accompanied by the message 'Don't End Up Like This. Slow Down & Live'. The double-sided billboard is visible to both northbound and southbound traffic on Highway 95.

"Our hope is to get driver's attention and reduce the horrible crashes on this remote stretch of highway where emergency response will take a lot of time before it arrives," said Oregon State Police Lieutenant Richard Pileggi. "Speed, fatigue, and inattention are just a few of the main factors related to crashes on the over 120 miles of Highway 95 that lies in Oregon."

The fatal crash scene photograph used on the billboard is from a single vehicle fatal traffic crash that happened July 16, 2005 in which a 14-year old Nevada girl died after she was ejected from the car she was riding in when it crashed on Highway 95 southwest of Jordan Valley. The occupants were reported to be enroute from Nevada to Boise, Idaho. The car was driven by her 17-year old sister when it lost control on Highway 95 near milepost 69 and rolled. The driver and a 15-month old child were seriously injured...

The Malheur Traffic Safety Commission thanks Meadows Signs and their representative, John Lehman, for donating all the work, production, design and costs of the safety billboard, and Rosemary Warn, for allowing the sign to be posted on her property.

Photograph Sources: Malheur Traffic Safety Commission / Oregon State Police
Email This Post
Possibly related posts