"To me these highway expansions represent an old way of doing business."
— Juan Carlos González, Metro Council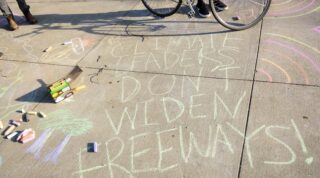 Two freeway expansion projects that were due to be approved by Metro Council at a meeting today (7/29) have been taken off the agenda and will be given their own meeting next week. The change is notable because, as we shared last week in an opinion from transportation and climate change activist Chris Smith, the items were previously on a consent agenda which meant there would be no formal vote or discussion.
The newly scheduled meeting on Tuesday at 2:00 pm (8/3) takes the controversial resolutions out of a consent agenda and they will now be discussed and voted on by Metro Council members separately. It's not a public hearing, and public comment will still only be taken at the start of the meeting, but the move is a small win for activists who've flooded Metro Council with concerns about the projects.
Imagine the Willamette Greenway
Trail extending the Esplanade
to St. Johns.
(Photo: Scott Mizee/
npGreenway
)
It's that time of year again when Metro seeks your comments on how they should spend millions of dollars in federal funds through their regional flexible funding program (also known as MTIP, the Metropolitian Transportation Improvement Program).
A key part of that process is gathering public comment so decision makers at Metro can make the most informed choices on how to spend $21.6 million. Sounds like a lot of money right? Well, the rub is that Metro has received applications for projects totaling $57.8 million — so that means they need your help to whittle down the list (JPACT, a Metro advisory committee has thankfully set a minimum of $7.2 million that must be spent on bike/ped projects).