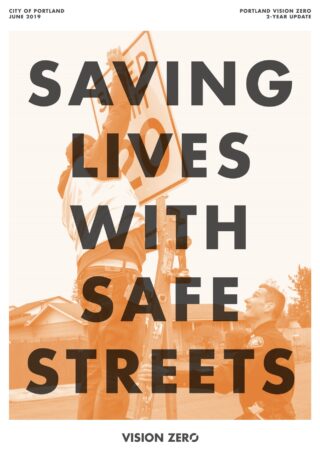 The Portland Bureau of Transportation is making steady progress on their march toward safer streets. They've queued up an impressive slate of capital projects, worked the legislature to gain authority for speed limits and enforcement cameras, and have passed important plans with the policy backbone that enables them to do things like remove auto parking from corners (a.k.a. "intersection daylighting"), install crossing treatments in more places, and so on.
Last week PBOT brought their annual Vision Zero 2-Year Update (PDF) to city council. They don't have to get council's official blessing for reports like this, but PBOT often takes this step to burnish council relationships, lay political groundwork for funding requests, and get explicit support for what might be controversial Vision Zero-related moves down the road.
Things like this usually get unanimous support because PBOT doesn't bring half-baked ideas to council and they brief each commissioner beforehand to make sure they are up-to-speed with the issues and information. So it was a big surprise when Commissioner Jo Ann Hardesty voted no.