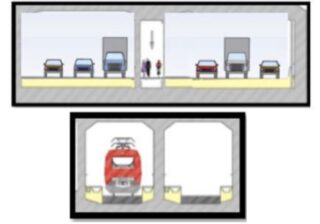 To Bob Ortblad, a retired civil engineer who lives in Seattle, the team behind the Interstate Bridge Replacement Program (IBRP) – the plan to expand I-5 bridge between Vancouver and Portland across the Columbia River – have it all wrong.
While other advocates have proposed alternatives to the highway expansion, like congestion pricing or a project that better incorporates public transit light light rail or even high speed rail, Ortblad has spent the last three years trying to convince planners to consider scrapping the bridge idea altogether, opting instead for an immersed tube tunnel (ITT).
But he says IBRP planners have tunnel vision when it comes to his immersed tunnel vision.
Ortblad's case for a tunnel under the Columbia River revolves around safety, land use and environmental impact. He's written dozens of letters and slideshow presentations explaining his reasoning, but says the IBR program team hasn't given his idea the serious consideration it deserves.