Our "Gal By Bike" columnist Kate Johnson recently spent a day embedded with Biketown mechanics and rebalancers. She last wrote about guerrilla artwork on neighborhood greenways.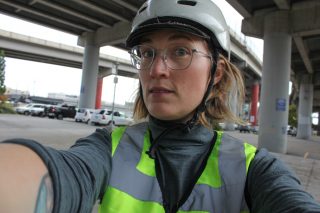 One fine evening in July of 2016 I just so happened to find myself on a corner outside a warehouse in inner southeast Portland.
Biketown was just days away from launching and the anticipation throughout the city was palpable. Thanks to a truck outside the building, I was able to peer into the windows and see a full fleet of 1,000 loud orange bikes lined up like readied soldiers. I'm not exaggerating when I say that I still well up a bit just thinking about that sight. That room wasn't just filled with bikes, it was filled with hope — hope that the title of "best bike city" wasn't just a fluke and hope that we were on the precipice of a great transportation revolution.
Since that day, I have imagined Biketown headquarters to be absolute mania. I envisioned bikes swarming to and fro, bike stands littering the entire warehouse floor — each manned by a mechanic tirelessly torquing their wrenches as sweat beads on their forehead. Much like the New York Stock Exchange — but with bright orange bikes. This is not at all what I found when I visited the headquarters last week. As it turns out, keeping a giant operation of 1,000 bikes and 100 stations going doesn't have to come down to chaos and hustle and bustle. The folks at Biketown are working smart, efficiently, and having "the most fun you'll find in any office in Portland" as one employee put it. After spending a day watching how Biketown functions, to say I was impressed would be an understatement.