Editor's note: Gal by Bike columnist Kate Johnson has been a local bike commuter and biking advocate for years, but had never been to The Street Trust's annual Alice B. Toeclips awards gala until Friday. Here's her take.
Have you ever been on a TriMet bus at around 3 p.m. on a weekday when, suddenly, you're engulfed by a sea of teenagers? It's no longer just a bus ride, it's a party! All of those teens are likely getting to and from school, work, extracurriculars, and hang outs at no charge, and that's thanks to the hard work and dedication of the Youth Environmental Justice Alliance.
YEJA is a youth-run program, part of OPAL Environmental Justice Oregon, that creates and runs political and social justice campaigns, creating leaders in low-income communities and communities of color through weekly political education and skill-building. On Friday, Portland community members, active transportation advocates, and local leaders came together to honor and celebrate the advocacy and action going on in and around Portland at the annual Alice Awards. YEJA was honored this year for their activism — filling the audience with hope and reminding us all that the future can be very bright indeed. Learn more about the work of YEJA, see how you can help with their mission, or make a donation on their web site.
This year was the first Alice Awards with "The Street Trust" across the marquee. It was billed as the year of "the power of three": biking, walking, and riding transit. Street Trust Executive Jillian Detweiler spoke with poise, thanking those around her who have inspired her and helped her through this new season. She graciously spoke to the knowledge and skills of those before her. Applause-worthy mentions included the $1 billion for public transit, $125 million in funding for Safe Routes to School programs, the five thousandth child to receive biking and walking education, the 12,445 people that participated in this year's Bike More Challenge, and the growth of the Women Bike program – now over 1,000 women strong.
"Smart, fiery, and with heart," Detweiler said. "That is the Street Trust."
Congressman Blumenauer: Portland shouldn't become a 'heritage site' of past achievements
Congressman Earl Blumenauer made an appearance on stage, speaking to the group earnestly and honestly about the responsibility we all share in the future of Portland active transportation. He cited cities across our nation that have taken ideas and inspiration from Portland, but pointed to the challenge of where to go next.
"I don't want Portland to be a place that, ten years from now, is looked at as a heritage site," Blumenauer said, pausing to allow his words to sink in.
He finished by urging us all to not give up on our government. In a nod to our current political climate, he simply stated, "it will get better," before making the first auction donation of the night and exiting the stage through a fog of applause.
Eugene change agent gets lifetime achievement award
In addition to The Street Trust's honor for YEJA, Eugene advocate Shane MacRhodes took home the Bud Clark Lifetime Achievement Award. Street Trust Deputy Director LeeAnne Fergason beamed as she introduced her friend and colleague to the stage. If you've ever had the pleasure of meeting Shane, you will understand her enthusiasm. Not only is Shane tirelessly dedicated to making streets safer in his community of Eugene and beyond, he is bright beacon of knowledge, help, and support for other advocates. Shane is a doer, consistently active in teaching new riders, kids, families, and adults. Though he was awarded with a lifetime achievement award, one can only assume that Shane is nowhere near done speaking up and showing up for safer streets.
Golden tickets were purchased by hopeful attendees, bidding wars commenced, and auctioneer Dale Johannes brought the hype and a cadence of speech not heard since 90's pop hit "Scatman."
Some folks on the scene Friday
Guests enjoyed a new format with stadium seating and a cocktail hour with locally made tapas and free flowing libations.
For Phil Richman (left) the active transportation triumph of 2017 has been riding a Biketown bike more than anyone he knows — mostly to and from food carts.
Cathy and Loran Lamb-Mullin have watched Portland's bike infrastructure be built from the ground up. They've been volunteering with The Street Trust for over 18 years.
Metro's Rebecca Hamilton and the City of Portland's Mark Lear posed in front of Portland's ever-changing landscape.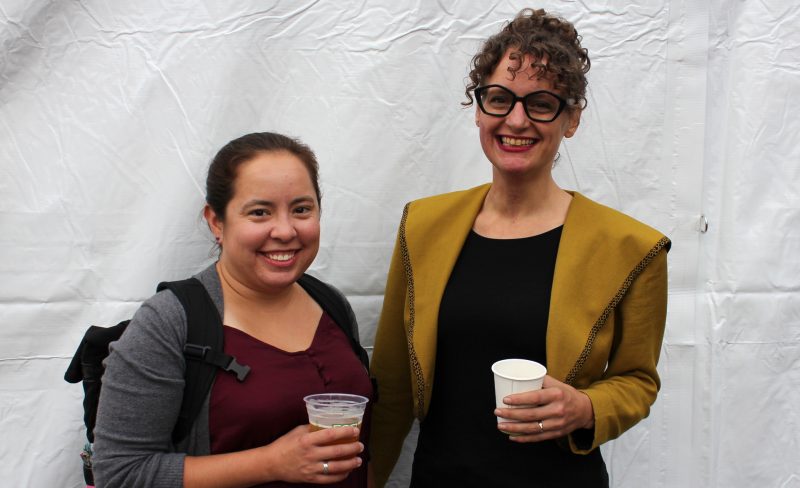 Community Cycling Center Assistant Bike Camp Manager Kelley Goodwin, left, recounted a day when her bike campers took shelter from the thickening smoke on TriMet, teaching her campers yet another way to travel about their city.
Leah Benson of Gladys Bikes, right, is a boss in myriad ways, as the jacket above so obviously denotes.
As another Alice Awards comes and goes, I welcome you to ponder what you, a member of this unique community, will do in the coming year to help advocate for and secure safer conditions for biking, walking, and public transportation in Portland. Look to the doers like the members of YEJA and Shane MacRhodes for inspiration. Come to the table armed with intelligence, fire, and heart. In the words of Congressman Blumenauer: what's next?
— Kate Johnson. Read more from her Gal By Bike column.
Never miss a story. Sign-up for the daily BP Headlines email.
BikePortland needs your support.