Our Gal by Bike columnist Kate Laudermilk was one of the first people to ride the Columbia Gorge Express — a new transit option with service between Portland and Multnomah Falls.
One of the arguments I made as I desperately tried to convince myself that I needed to buy a new car after parting ways with my partner (and our car) four years ago was that I needed a car to fully experience all of the natural wonders surrounding Portland.
I felt like I was going to be trapped in Portland until the end of my days.
Little did I know that, when you don't have a car, you get creative. You use the old noggin. I no longer feel trapped in any way.

The new Columbia Gorge Express is great! Kiel and I tried it out this past weekend and combined it with a ride on the Historic Highway State Trail all the way to Cascade Locks where we enjoyed some of the local flavors (beer and ice cream).
Here are a few photos from our wonderful journey…
The bus itself held about 20 people and had room for strollers and extra baggage in the back.  It has a ramp that can come down to accommodate folks with walkers or wheel chairs, and has room for three bikes on the front of the vehicle.  The bike racks are extremely similar to those on the Trimet bus.
There was a really great energy in the bus — folks were really excited!  I overheard a lot of conversations between complete strangers.  You don't get that when you drive in your car alone.
Forgot to buy your ticket online ahead of time?  No problem!  You can pay with your card right on the bus!
In this picture neither of us could believe how easy it was to get to that point.  We were already at Multnomah Falls and hadn't even broken a sweat!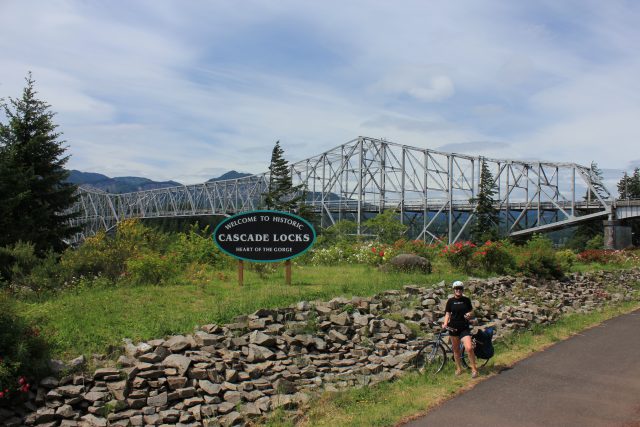 Had I ridden all the way from Portland to this point at Cascade Locks, I would have been passed out in this photo. Thanks to the Columbia Gorge Express, this slightly out of shape gal could make it no problem!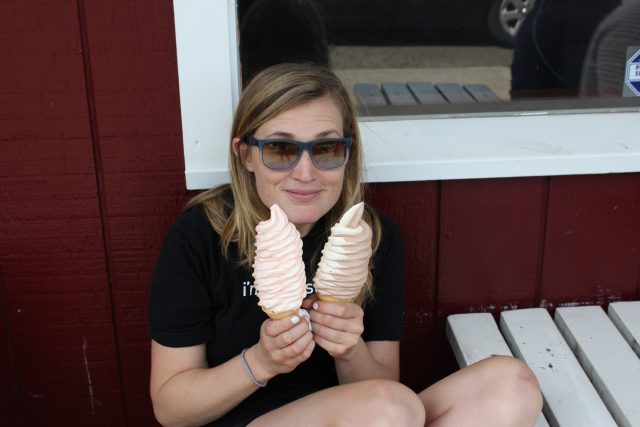 In the end, it's all about the ice cream, the beer, and the comfort of knowing that I don't have to find my car in the labyrinth that is the Multnomah Falls parking lot.  Cheers!
For more on the Columbia Gorge Express check out the official website and watch the new video:
— Kate Laudermilk, @katelaudermilk
— BikePortland is supported by readers like you. Please become a subscriber today!