— by our "Gal by Bike" columnist Kate Laudermilk
Two days after Kiel and I got engaged, I turned over in bed to see an all too familiar crazed look in my lover's eyes. This look is almost always accompanied by some cockamamie idea that I, at first, am vehemently against and then end up going along with anyway. I had a split second to make a very important decision — close my eyes again, pretend to sleep, and wait for the idea to pass, or be a good fiancé and ask him what was on his mind. Being the selfless partner that I am, I went with the latter.
There are all of these societal expectations that you feel like you need to adhere to and NONE of them include sticking all of your guests on bikes.
"Let's have a bike wedding!" he said, his eyes dilating with delight.
The next ten minutes or so were filled with me intermittently shouting out potentially disastrous scenarios of having a wedding by bike. All the while Kiel sat back waiting for me to finish — he knew I would eventually tire. Of course, in the end, we had a bike wedding. Of course it was amazing. And, of course, nothing went massively wrong. Let's go ahead and just write my epitaph right here, right now: "Kiel Johnson is, and was, (almost) always right."
Planning a wedding can suck your soul right clear out of your body if you let it. There are all of these societal expectations that you feel like you need to adhere to and NONE of them include sticking all of your guests on bikes and making them parade around. But, that's precisely what we did and, you know what? The world is still spinning!

First and foremost, a wedding should reflect the couple's personalities. Any wildly expensive wedding planner will tell you this. It's the truth, and I just told it to you for free. You're welcome. If you look back on our relationship, a few themes will stand out — bikes, beers, pizza, and a deep love for cities. My relationship with Kiel has always existed within a city. We've lived in the Lloyd District for nearly three years in an apartment that shakes when the bus goes by and swells with outside chatter during the weekday lunch hour. We've traveled to cities around the globe — getting around mostly by bike and comparing and contrasting each landscape in great detail as we pedal along. We decided to get married with the skyline of Stockholm in the background — our Stockholm City Bikes parked next to us. We've built our relationship primarily on bike saddles. Our experiences and events happen not inside a metal box, but outside — sometimes, for all to hear. Our arguments, laughter, and discussions are woven into the tapestry of Portland and the other cities we've briefly inhabited. Why would our wedding day be any different?
For a brief time on July 2nd, 2016, Kiel, myself, and seventy of our closest friends owned the streets of Portland. Music blared from two speakers as we glided down the Esplanade. Bike bells chimed in what, at the time, seemed like perfect harmony as we rode in synchronicity around a conveniently placed roundabout on the west end of the Steel Bridge. Macklemore's "Downtown" rang out as we took up the entirety of Naito. Friends who haven't ridden a bike since they were kids were caught smiling ear to ear as we rode up Rodney singing "Don't Stop Me Now" at the top of our lungs. It was, without exaggeration, absolutely magical.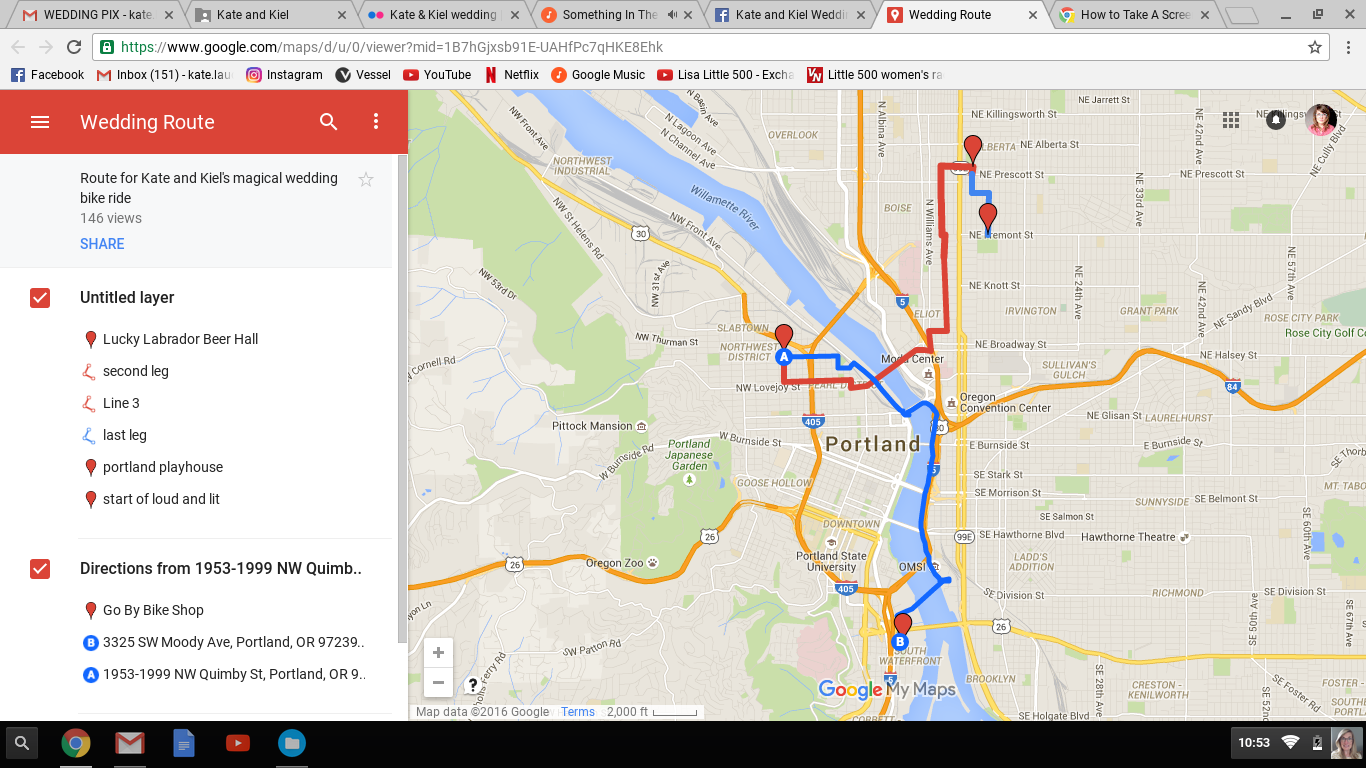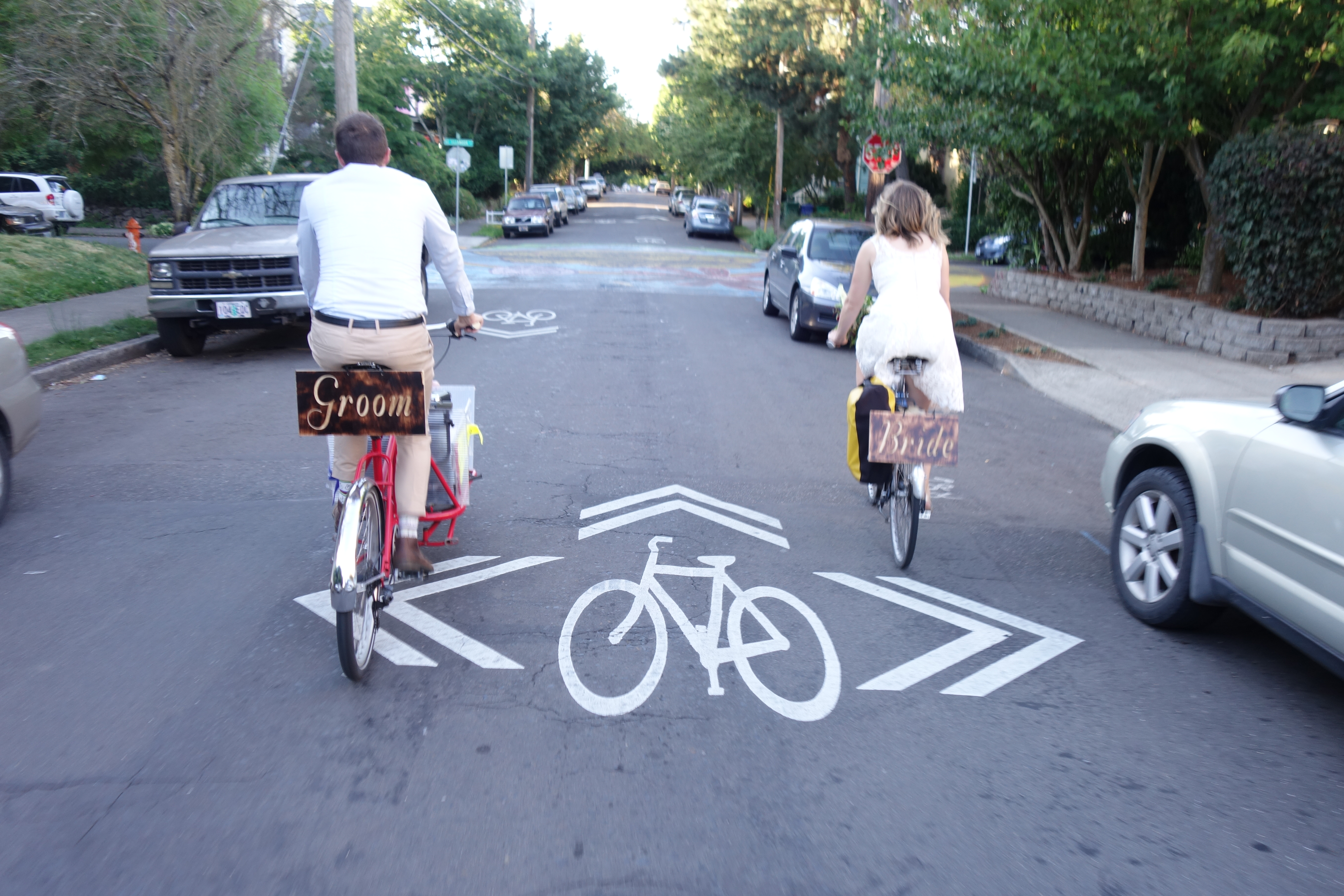 The ceremony took place at Go By Bike Valet (Kiel's proud creation). You may have heard through the grapevine that Go By Bike is the biggest bike parking structure in North America and now it's also the first bike valet business to host a wedding ceremony. We exchanged our own vows while framed by OHSU bike share bikes — all the while being gawked at by very confused tourists waiting in line for the aerial tram. Next, we all eagerly jumped on our bikes — twenty of which were borrowed by out of town guests — and took the scenic route to Lucky Lab NW — the scene of our first date. Two large car parking spots were transformed into enough parking for over seventy bikes. The folks that were eating outside at Lucky Lab were in awe of the sight of our gang. All-you-can eat pizza and beer flowed as dear friends took turns giving speeches and words of wisdom.
I found myself wondering why pizza and Superdog IPA isn't served at all weddings.
After Lucky Lab, we took a detour to the house that Kiel lived in when we first started dating. A quick reenactment of our first awkward kiss was in order. Finally, it was off to the Portland Playhouse where we danced our already fatigued legs off, drank my father-in-law's home brewed IPA, and devoured an $18 Costco cake alongside leftover slices of pizza. It was the stuff dreams are made of.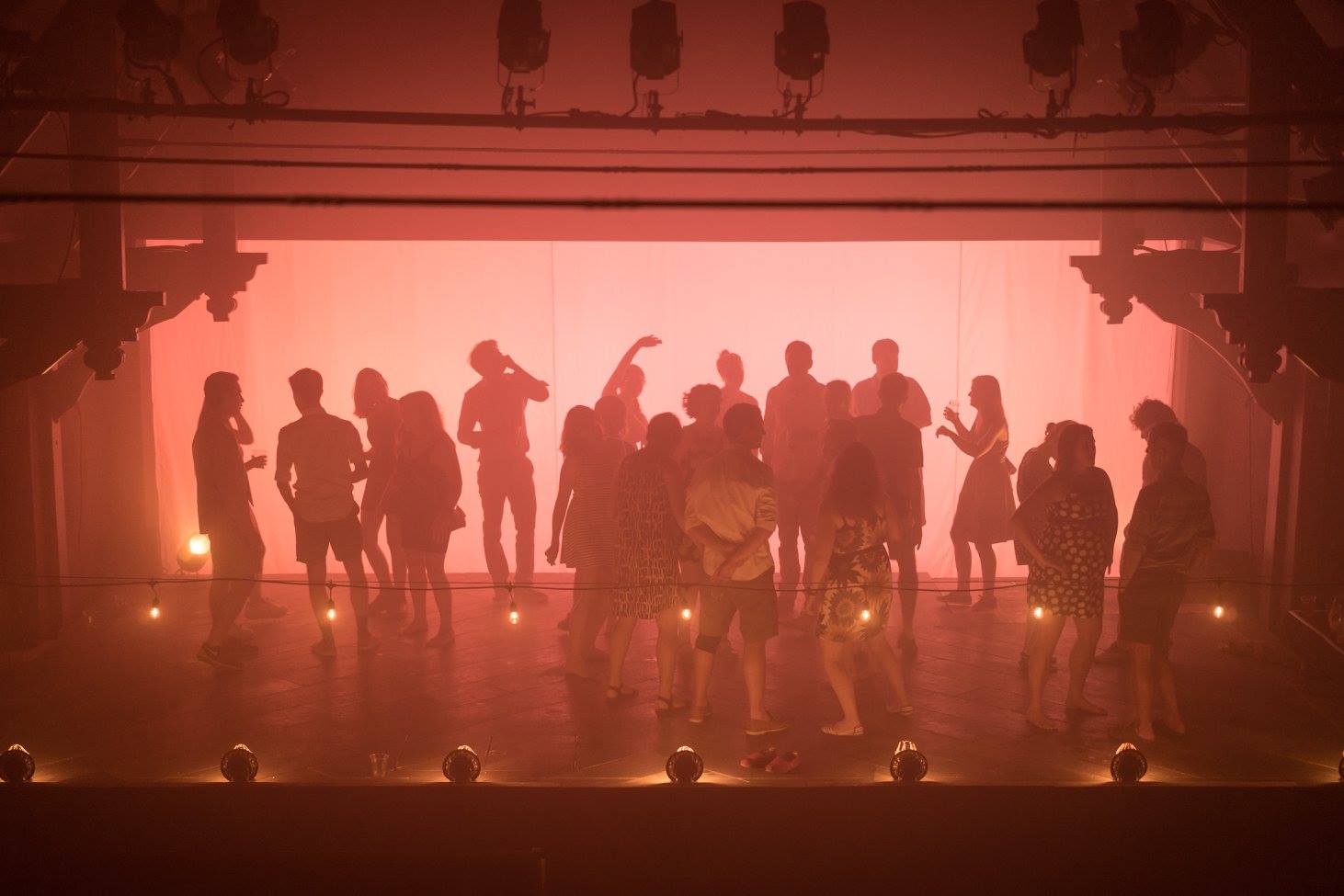 When we're old and grey, pedaling down a city street on our tandem recumbent bike, Kiel and I will think back fondly to the day where Portland seemed to exist exclusively for us. When the streets stood still to make way for our celebration of love, friendship, and a hopeful future. The day that so many of the people we love, no matter their skill level on a bike, got to see what it's like to truly experience a city in all of its glory. The day where a crazy idea turned into a blissful reality.
Read more of Kate's posts in the Gal by Bike archives.
– Kate Laudermilk