— Story by Jacob Loeb, Montavilla News
Last week, road crews began work on NE Halsey Street at 76th Avenue (map), reducing driving lanes to make room for two pedestrian refuge islands and buffered bike lanes. This intersection improvement work supports the 70s Neighborhood Greenway project, providing a safe north-south connector for people walking or rolling to their destination. NE Halsey's lane reconfiguration will extend several blocks east and west from this crossing, creating one travel lane in each direction with a center turn lane.
NE Halsey is one of the city-identified high crash corridors, making an enhanced intersection necessary at this new greenway crossing. NE 76th Avenue shifts 90 feet off-center at NE Halsey Street, creating two "T" intersections. Consequentially, engineers needed to construct extra in-road elements to protect multimodal cross traffic while allowing vehicle left turns. The new center turn lanes on NE Halsey will have two pedestrian refuge islands aligned with the east crossing of NE 76th Avenue and a short raised median to the west protecting a green striped bike crossing. Crews will reconstruct two corners featuring Americans with Disabilities Act (ADA) compliant ramps that align with mid-block curb ramps across NE Halsey Street. The SE corner of NE 76th Avenue and Halsey Street will also feature a westward curb extension, shortening the crossing distance and placing waiting pedestrians at the outer edge of the parking lane for greater visibility.
See PBOT engineering plans below: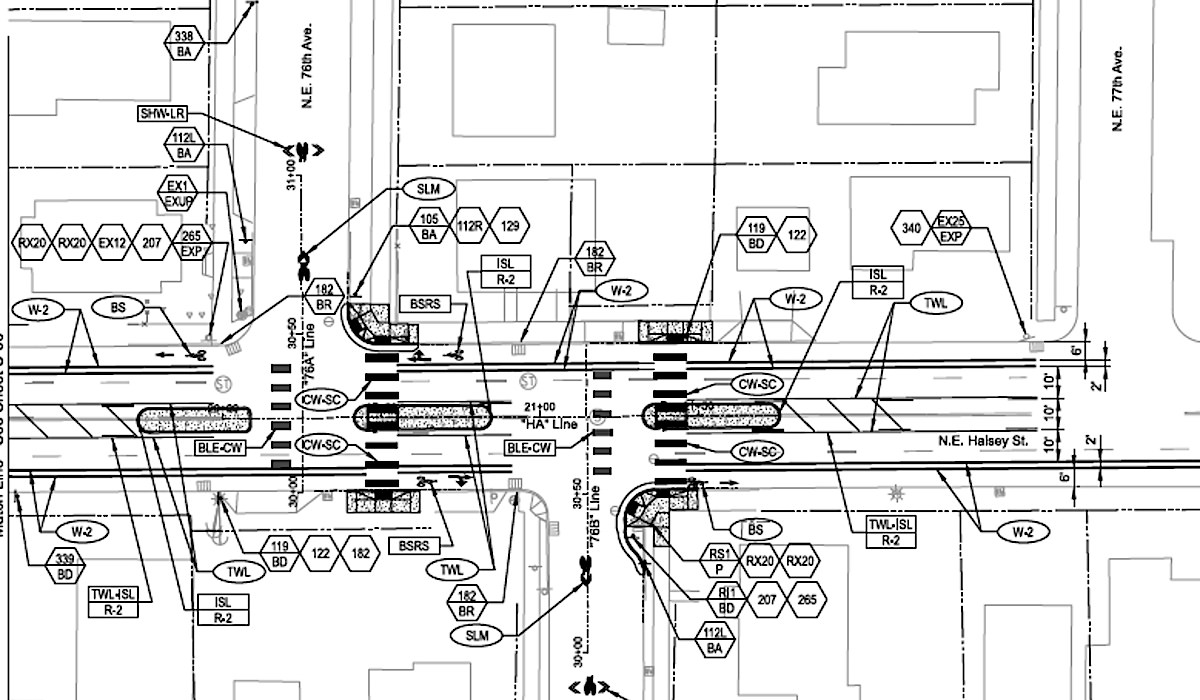 The NE Halsey Street lane reconfiguration will extend from NE 70th to NE 80th Avenues and support other Portland Bureau of Transportation (PBOT) safety improvements planned for this busy street. Reducing the four vehicle travel lanes to two adds road width for painted bike lanes to protect cyclists and a center turn lane for added protection. "This three-lane configuration is a proven safety improvement that national studies and local experience show results in safer travel for everyone," explained PBOT representative Dylan Rivera. As they approach this ten-block segment of NE Halsey Street, signage along the corridor will notify people that a traffic pattern change is coming up.
PBOT expects the project on NE Halsey Street to conclude later this year, with striping and signage added by the end of December 2023. During the next few months, crews will need to close some streets and crossings as well as reduce travel lanes. Cyclists and pedestrians should use caution around NE 76th Avenue and potentially find alternate routes. TriMet has temporarily closed bus stops serving the 77 line (Stop IDs 2453 & 2452) at NE 76th Avenue in both directions. Riders who use those boarding locations should plan for additional travel time to the next stop through September 17th for eastbound service and September 27th for westbound service.