The collision that sent a person on a bike flying into the air continues to reverberate through Portland transportation advocacy circles. While the video and details of the crash were removed from BikePortland by request of the victim (I have reached out to the victim's friend to ask if they'd reconsider and have yet to hear back), many who saw it feel compelled to act.
Yesterday I reported on a new, anonymous group of tactical urbanists who placed unsanctioned concrete blocks at the juncture of that collision where Northeast 20th and 21st merge. Now another one of Portland's independent activists has a plan for changes in this area.
Remember Xavier Stickler? He's the young Portland State University architecture and urban planning student who had the vision to create a plaza on SW Oak between Burnside and 10th. He also showed amazing dedication and persistence to actually make the dream a reality and now that small block across from Powells Books — that used to be a slip lane for car users — is a popular place to sit and eat and enjoy downtown vibes.
When Stickler saw that bike rider get hit last week, he saw another opportunity to create a more people-centered intersection. Stickler's proposal is to make the short block of NE 21st Circle between Pacific Street and 20th/21st Avenue carfree and turn it into a public plaza when the block gets redeveloped.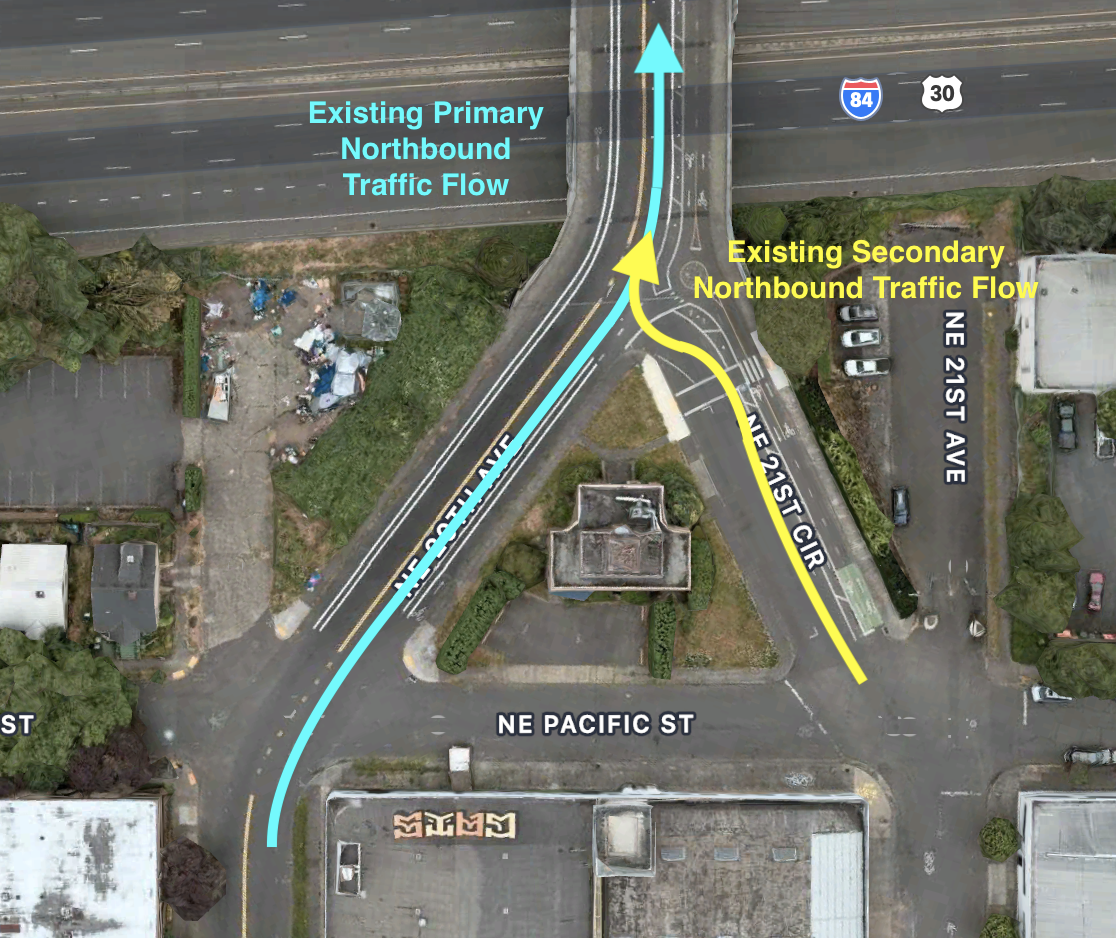 "I cannot say this would've prevented that wreck, but the roadway simply shouldn't be there. It's a bad intersection." Stickler wrote to BikePortland in an email with a one-pager of his proposal.
His idea is simple: Prohibit car users from driving on NE 21st Circle and turn it into a pedestrian-only plaza.
Here's more from the one-pager Stickler has sent around to PBOT staff, advocacy group BikeLoud PDX, and the Kerns Neighborhood Association:
"Following a viral wreck between a car that careened into the cycle track of the NE 21st Viaduct above I-84 and a person riding a bike, community members have found themselves questioning how to prevent a similar tragedy. One aspect of the solution should include the permanent pedestrianization of NE 21st Circle. It is 20th Ave that functions as the extension of the 21st viaduct. NE 21st Circle instead carries a bi-directional cycle track and only 1 lane of northbound vehicle traffic, creating an unnecessary intersection in front of the historic Fire Alarm Telegraph building. The vestigial roadway remains open to traffic despite not serving a clear purpose in the overall traffic flow of the area. Vehicles attempting to travel north could just as easily turn west onto NE Pacific and then north onto 20th with only a few seconds added to their trip. This intersection adds extraneous space dedicated to vehicles and a confusing ancillary intersection, compromising the safety of all users and mode shares. NE 21st Circle should be outright removed from the automotive infrastructure grid."
Instead of an unneeded lane for drivers, Sticker sees a plaza that could have food carts, host community gatherings, display public art, and more. It makes even more sense, he says, given the imminent redevelopment of the adjacent Sunshine Dairy block that will soon be redeveloped with 200+ units of housing.
So far he hasn't heard anything official from PBOT or anyone else about the proposal. We'll keep you posted.