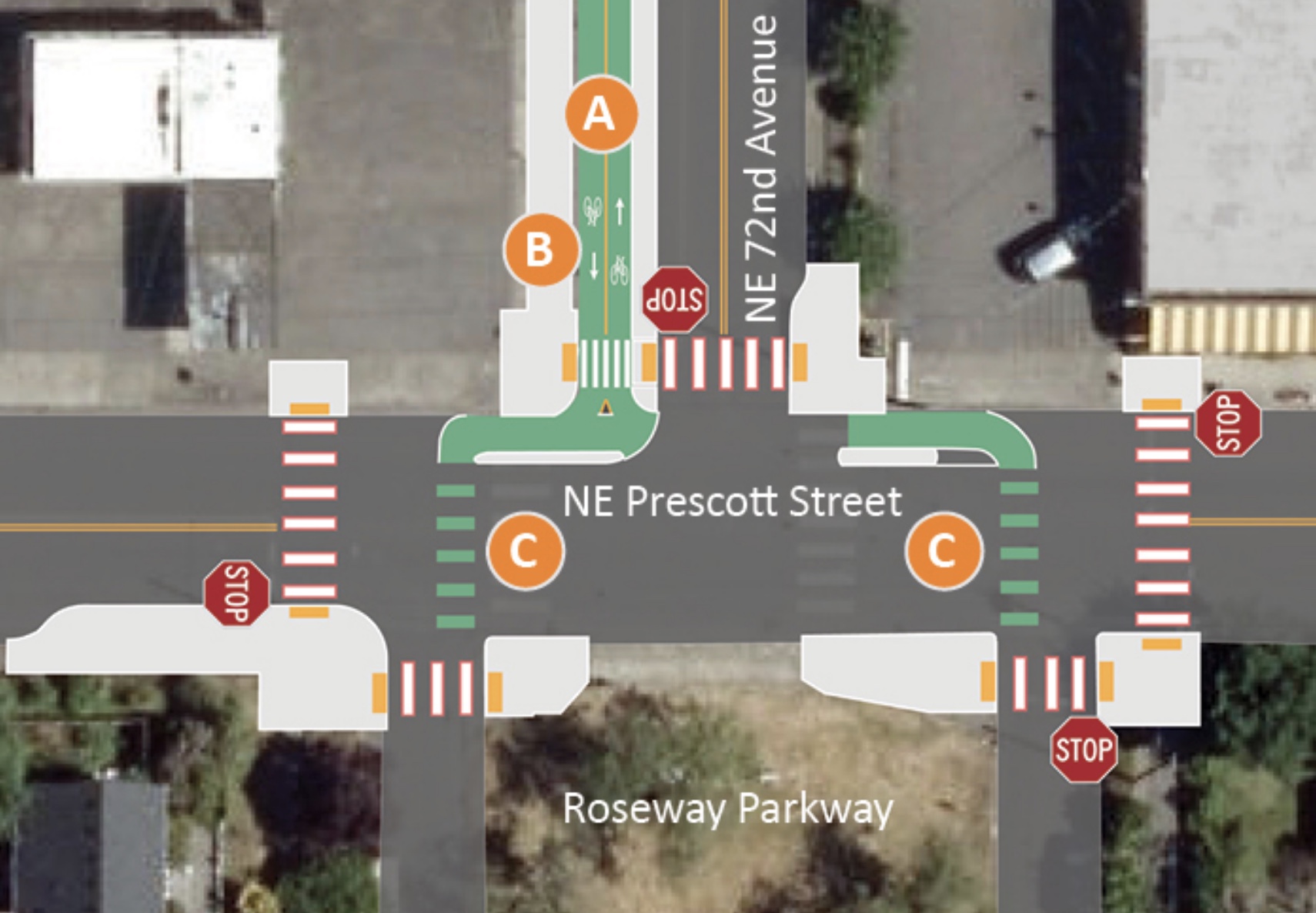 "I'm dead set against this proposal… If you bought your house [on 73rd] and thought you had a nice, calm street, it's going to get busier."
— Ted Carlston, Roseway Neighborhood Association
The City of Portland is looking for feedback on how to design a project that will create a low-stress bicycling and walking route along Northeast 72nd Avenue. The one-mile Cully Connector is just one part of the much larger 70s Greenway project which runs from Southeast Flavel to Northeast Killingsworth.
The Cully Connector portion goes from NE Sandy Blvd to NE Killingsworth. PBOT has released conceptual designs and has recently presented them to the Cully and Roseway neighborhood associations. There's an online open house available now through May 31st where you can share feedback. In other words: Now is the time to learn more about this project and let PBOT know how to make it better.
As per usual with neighborhood greenways, PBOT wants to transform 72nd into a calmer, more "family-friendly" street where walkers and rollers feel safe and welcome. Specifically, they want to reduce traffic on 72nd, slow down the drivers who continue to use it, add protected space for vulnerable road users, and improve crossings at major intersections. To do that they plan to install bike and pedestrian specific infrastructure, traffic calming measures (like speed bumps), signage, crossings, a bike-only signal, and so on. The budget for the project is $5.6 million and funding was split between a federal grant (administered by Metro) and local matching funds.
The last time we covered this project was in October 2019 when we shared the news that the original "Roseway Parkway" path concept was cut out to save money and to appease concerns from some nearby residents.
In addition to creating a safer north-south corridor for non-drivers, this project is important because 72nd is a key connector to wonderful Cully Park. The park, which opened in summer 2018 is a major destination, but there's currently no safe way for people on foot to access it. 72nd has no shoulder or bike lane and — as I pointed out in a review of the park in July 2018 — the crossing of 72nd and Killingsworth is not for the faint of heart. (It's very unfortunate the Cully Connector won't be built until (at least) 2023 and that Killingsworth is an ODOT-owned highway so making the crossing of that intersection a lot better will come with added difficulty.)
PBOT has created four conceptual designs for four different street cross-sections and two intersections (Sandy and Prescott):
You can learn more about the designs by clicking through the online open house. Be sure to leave feedback because PBOT is already hearing plenty from neighbors who fear impacts to "their" streets.
One loud critic is Roseway Neighborhood Association Vice Chair Ted Carlston. At an April 13th meeting with PBOT Project Manager David Backes, Carlston said, "I'm dead set against this proposal."
"I've lived in this neighborhood all my life and I know traffic patterns of a lot of people, especially mine," Carlston said, "And I'll be using 73rd a whole lot more." He then gave a warning to people who live on 73rd. "If you bought your house and thought you had a nice, calm street, it's going to get busier." Carlston is also concerned that new automobile turning restrictions proposed at 72nd and Sandy will mean he has to drive a few more blocks to get where he wants to go. "Because you can't turn. You want to go around the corner, but you've got to go five blocks to get there with this proposal."
Backes responded by saying PBOT knows adjacent streets will see more traffic once the changes are made. Citing the city's neighborhood greenway policy that allows diversion to result in up to 1,000 cars/trucks per day without mitigation, Backes said, "We're comfortable increasing traffic on adjacent streets up to certain levels… This is partly about rebalancing the way streets in the neighborhood are supposed to work.
Another person who lives on 72nd said she supports the project: "I live on 72nd between Beech and Failing and at morning and evening rush hour it's like a speedway with people flying down the road 50 mph and there's tons of kids playing on the parkway… so I'm really happy to see all of these changes."
If you live, work, or ride on 72nd, make sure PBOT hears your voice. Check out the Cully Connector project page and visit the online open house before it closes at the end of May.
— Jonathan Maus: (503) 706-8804, @jonathan_maus on Twitter and jonathan@bikeportland.org
— Get our headlines delivered to your inbox.
— Support this independent community media outlet with a one-time contribution or monthly subscription.