The Portland Bureau of Transportation wants to know if bike-friendly speed bumps are worth the trouble and treasure.
With an aim to slow down drivers and improve conditions for bicycle riders on neighborhood greenways, PBOT installed the first bike-friendly speed bumps (which they refer to as speed cushions) on SE Clinton street in 2017. The design includes two channels through the bumps that allow bicycle riders to roll through smoothly. Almost as soon as they hit the ground, the reviews from bike riders were very mixed. Some people love them, others say the channel is too narrow, can lead to crashes, and encourages drivers to swerve into them. Despite all that, PBOT has continued to use the not-yet-standard design citywide.
As we shared back in March, PBOT put out a survey to help determine whether or not they should continue to be part of the city's traffic calming arsenal. The survey evaluated three things; rider preferences, the cost implications, and whether or not they actually reduced driving speeds.
PBOT Bicycle Coordinator Roger Geller brought results of the survey to the May 9th Bicycle Advisory Committee meeting and asked for feedback to inform a final report he's working on.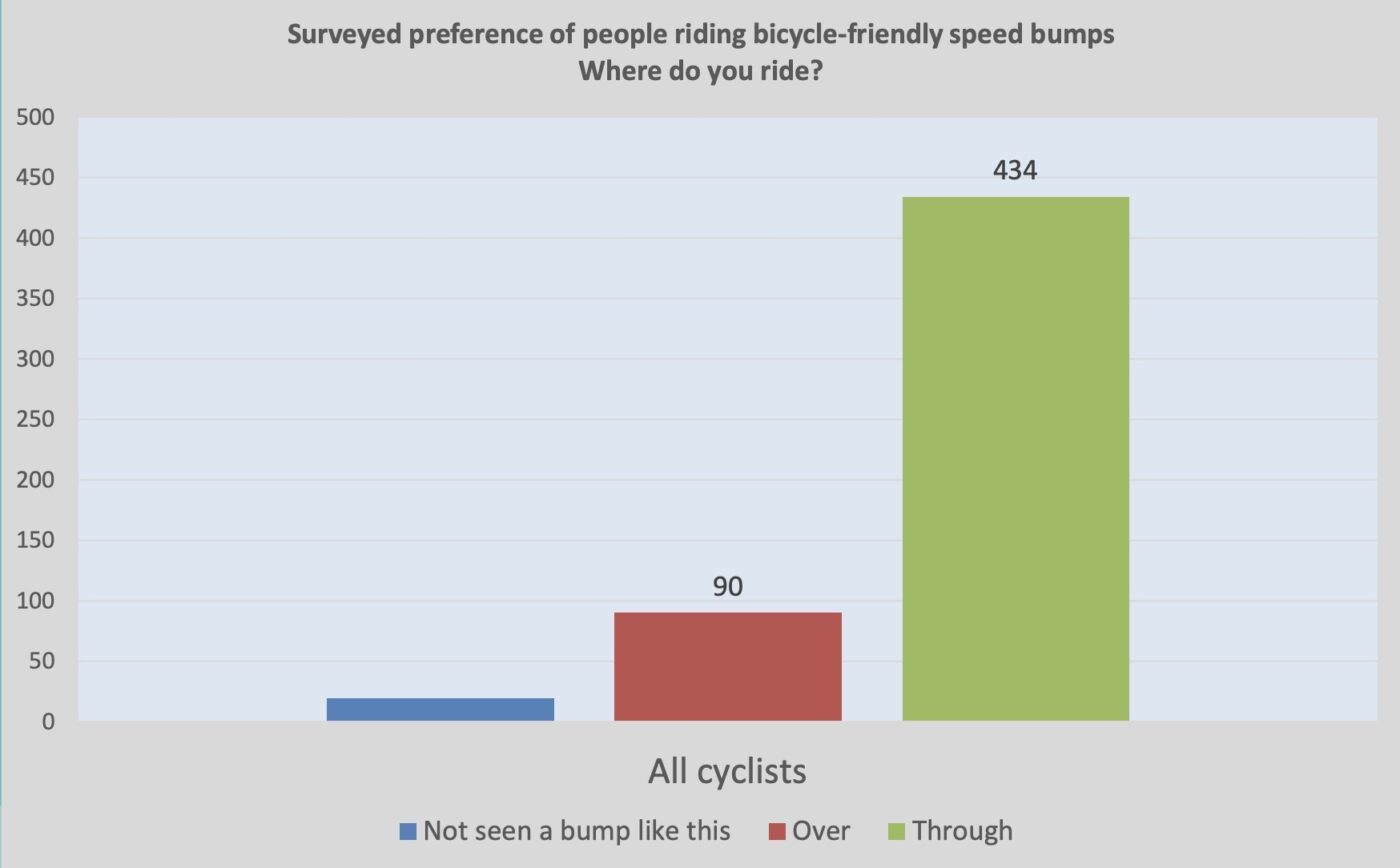 Of the 540 survey respondents, 80% said they prefer riding through the channel. Geller also did observations at seven different locations and found a similar number of channel-choosers. "People are voting with their wheels. That tells me the channels create a more comfortable cycling environment," Geller said at the BAC meeting. And since Portland city policy is to create the highest-quality cycling environment possible, Geller says these bike-friendly speed bumps are more closely aligned with city goals than conventional bumps.
When it comes to the accompanying pavement markings, most people who took the survey said they prefer a sharrow marking to be aligned with the channel. Geller says this is important for two key reasons: 1) the sharrow will lead riders toward the channel in dark or low-light conditions and 2) the sharrow will encourage people to ride closer to the center of the lane, which he believes is the safest choice when using a neighborhood greenway.
According to the city's survey and evaluations thus far, the bike-friendly bumps and traditional speed bumps have about the same impact on lowering driver speeds. So if they seem preferable to most cyclists and they accomplish the traffic safety goal, why not close the case and make them a standard treatment?
Because they cost more. About 20% more on average according to PBOT estimates.
And bumps (of any sort) are likely to only go up in price since PBOT will contract out even more of them in the future. The majority of bumps in Portland are already installed by private contractors, and with PBOT's budget in the hole, their maintenance crews are likely to do even fewer of them in years to come. Geller shared at the meeting that it costs PBOT crews about $2,500 to install a traditional speed bump and $4,000 to install a bike-friendly cushion. When they contract that work out, the price balloons to $7,000.
Add in the fact that PBOT must install more bike-friendly speed cushions to the get the same speed reducing impact as traditional bumps, and the cost goes up even more. A comparison of nine recently completed neighborhood greenway projects showed that PBOT installed 104 of the cushions when only 90 bumps would have been required — spending a total of $746,050 on the bike-friendly ones when they would have spent just $625,400 on bumps without channels. That's a 19% difference.
When PBOT asked in their survey if a 10% cost increase for the bike-friendly speed cushions would still be worth it, 51% of people said yes. 40% of respondents said it would be smarter to save the money.
There was also grumbling from BAC meeting attendees that folks would rather have diverters instead of bumps. Geller acknowledged that bumps aren't intended to reduce car volumes like diverters are, and he also said concrete diverters are much more expensive. (Keep in mind PBOT considers those round concrete barrels to be only temporary solutions and the more permanent treatment of a median diverter, including design and signage is estimated to coast around $30,000 a piece.)
When you factor in the cost issues and PBOT's unprecedented budget crisis, I won't be surprised if we don't see any more of these bike-friendly speed cushions in Portland.
We should know their fate soon. Stay tuned for Geller's final report.