The Portland Bureau of Environmental Services' (BES) Springwater Wetlands and Floodplain Restoration Project is meant to reduce the risk of flooding in the Foster-Powell and Lents neighborhoods near the wetlands along the Springwater Corridor Trail and restore habitats for wildlife like birds, pollinators and amphibians.
But Oregon's protected red-legged frogs aren't going to be the only ones with spruced up stomping grounds. Planners also want the project to include a new bike and walking trail connection from the Springwater Corridor Trail to east Portland neighborhoods and a future major bikeway corridor.
Portland Bicycle Coordinator Roger Geller and members of the Portland Bicycle Advisory Committee (BAC) weighed in on the project at a Tuesday BAC meeting after a presentation from BES senior engineer Tressie Word. The project team is currently in the midst of the land review process for the floodplain restoration and need to show that the trail is a clear public benefit in order for approval.
"We're trying to increase habitat health, hold more stormwater on city property and improve community access to nature and [neighborhood] centers," Word said. "The planned trail connection that we're talking about is something that's been in the works for a long time."
The new trail would add a connection between the Springwater Corridor Trail and SE 115th and 117th Avenues. 115th Ave is in the Portland Bureau of Transportation's Bicycle Plan for 2030 as a future bikeway corridor. Geller said PBOT is seeking funding for the 115th Ave bikeway project and having this short trail connection over the floodplain will help move it along.
"This is an important corridor we're seeking funding for, and this little trail connection is a relatively complicated element because it's in a wetland," Geller said. "We're very happy that BES is being such a good partner and incorporating it into their project."
It may be a short trail connection, but without it, it would be more difficult to access the future 115th bikeway from the Springwater Corridor Trail (and vice versa).
"Without this trail connection, the network is broken, access is diminished and active transportation becomes less attractive than with the connection," Geller wrote to BES in a letter of support for the project.
The project team is facing opposition from neighbors who are concerned about a new trail connection in their neighborhood for fear of a potential increase in crime, vandalism and drug use. Geller said he believes the benefits of this project would vastly outweigh any potential detrimental impacts.
"These are concerns that have been expressed with pretty much every single trail project that has been developed across North America for decades," Geller said. "And that's always the concern before the project is implemented, and then once the project is implemented, it turns out that people really do appreciate the trail. They do appreciate the access to nature. The types of concerns that they express really don't come to fruition."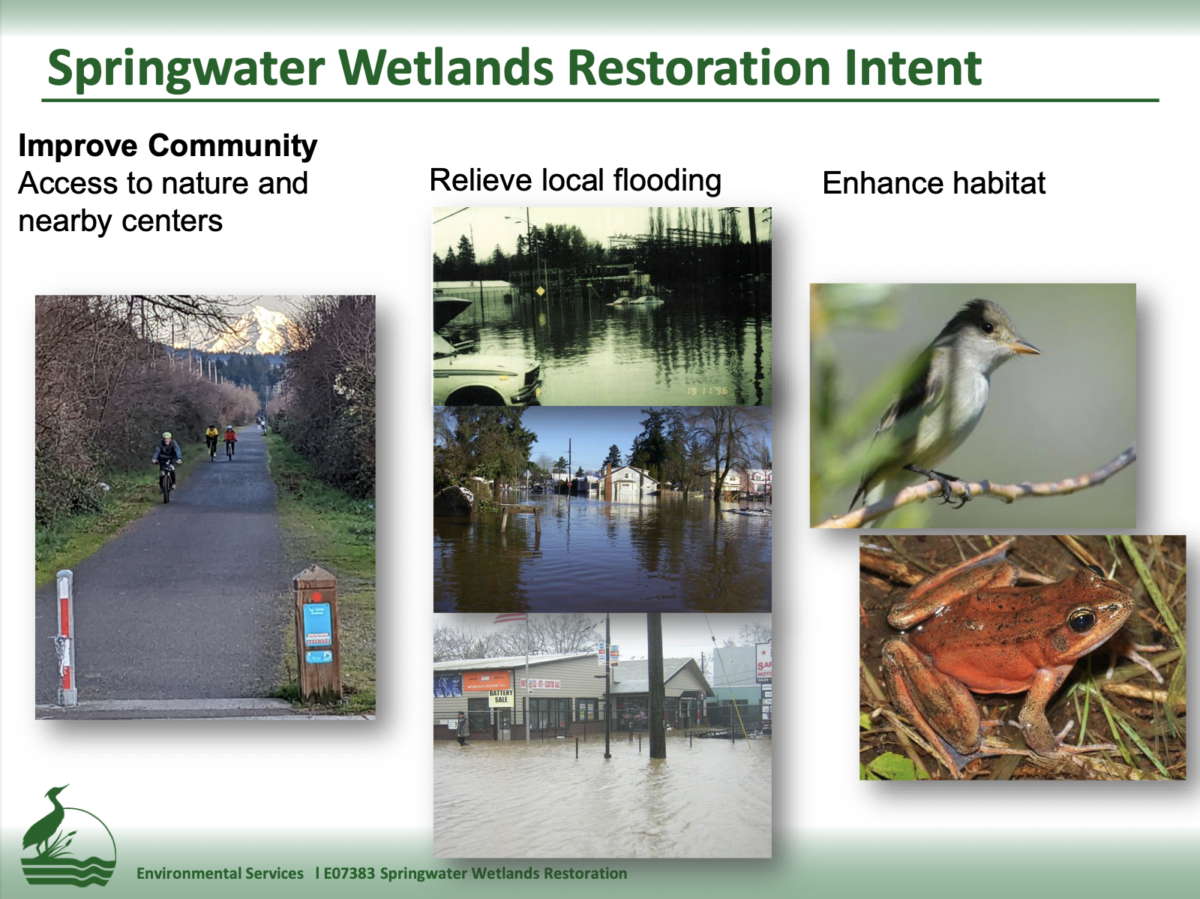 The BAC voted to approve a letter supporting the project, which includes the following points for why the trail provides significant public benefits:
Contributes an important transportation connection between the Springwater Trail running east-west (that connects communities from Sellwood to Boring) and the north-south bikeway to be developed on 115th Avenue.
Serves an important part of the city's planned bicycle transportation network – filling a gap to strengthen overall circulation within the network.
Provides access from many neighborhoods to the north to the Springwater Trail, which serves as both a transportation corridor linking to commercial centers like Division-Midway and Gateway (as a Major City Bikeway providing a safe alternative to Foster Road) and as a recreational destination (connecting to other major recreational destinations like Powell Butte Nature Park).
Provides a safe, active transportation connection that encourages bicycling or walking rather than driving – improving opportunities for Portlanders to lead healthy lives.
Supports lowering carbon emissions, reducing household costs and providing access to open spaces, especially for Portlanders of color, with low incomes and limited English proficiency that are more likely to experience environmental impacts and housing and transportation cost burden.
If all goes according to plan, construction on the wetlands restoration project and the trail will begin in spring 2024. It's not yet clear when the 115th Ave bikeway will be constructed.