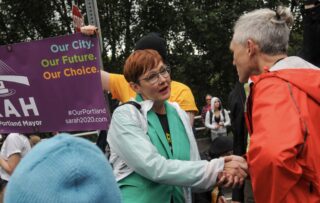 Portland mayoral candidate Sarah Iannarone is no stranger to bold ideas. She spent years working at Portland State University leading educational tours for visiting leaders that focused on our city's legacy of transformative urban planning decisions.
Now, as Iannarone campaigns to unseat Mayor Ted Wheeler, she's unveiled a "Climate Justice" policy plan that would be transformative in its own right. Iannarone's "Green New Deal" plan (PDF) comes out just two weeks after a City of Portland report found that carbon emissions from the transportation sector are "increasing dramatically."
To turn things around, Iannarone says, "Acting with urgency and partnering with our frontline communities is the only ethical and practical response to the climate crisis unfolding around us."
Blasting "tepid leadership and centrist incrementalism", Iannarone says if she was mayor she'd shift priorities away from economic growth and expansion and toward, "maximizing human and environmental health and justice." A major part of how she'd do that relates to how we move around.
"Intensify investments in transit-only lanes (bus and rail), bicycle and LIT [low impact transportation] lanes, and low-income LIT subsidies (e-scooter, e-bike, cargobike and bikeshare programs) across the city."
— Sarah Iannarone
Here's are some ways Iannarone's plan aims to change our transportation system:
– The plan would align citywide policy goals with Intergovernmental Panel on Climate Change (IPCC) reports.
– It would measure progress not by miles of roads paved or hours of congestion reduced, but by "alternative measures" such as a "Happiness Index" that "reflect our values and goals as a community".
– It would "shift power from city government and mainstream organizations to frontline communities" and convene an Intergenerational Climate Summit. Her plan would also "value local knowledge" by sending some funds directly to community organizations to create plans and projects.
– It would prohibit "all new fossil fuel infrastructure" including the I-5 Rose Quarter project.
– Her plan would expand transit and "Low Impact Transportation" (LIT) access by establishing a municipal ID card that would come with fareless transit. Iannarone would also invest in increased bus service, create an e-bike subsidy program for low-income households, expand investments in bus, bike, and LIT lanes.
– It would "streamline development" of "low-carbon neighborhoods" where people could more easily walk, bike and take transit wherever they need to go.
– It would create "zero emissions zones" (carfree plazas and corridors) throughout the city.
Proposals like these make Iannarone very popular with transportation reformers and other people who want to shake up the status quo on our streets (she earned the endorsement of Bike Walk Vote PAC when she ran for mayor in 2016). Her challenge in running far to the idealogical left of Wheeler will be to convince people that these ideas are not just reasonable, but feasible.
Iannarone is currently on a study tour in London. Yesterday she rode a few of their physically protected "cycling superhighways" and said via Twitter that "Portland should be ashamed of itself."
In related news, Iannarone isn't alone in hoping for dramatic changes in how we get around. Oregon House Representative Karin Power tweeted this morning that, "It's hard not to cross the Willamette on a lovely fall day and wonder what downtown Portland would look like without a freeway obscuring most of the riverfront airspace… cleaner air, more trees, revitalized contiguous access."
— Jonathan Maus: (503) 706-8804, @jonathan_maus on Twitter and jonathan@bikeportland.org
Never miss a story. Sign-up for the daily BP Headlines email.
BikePortland needs your support.