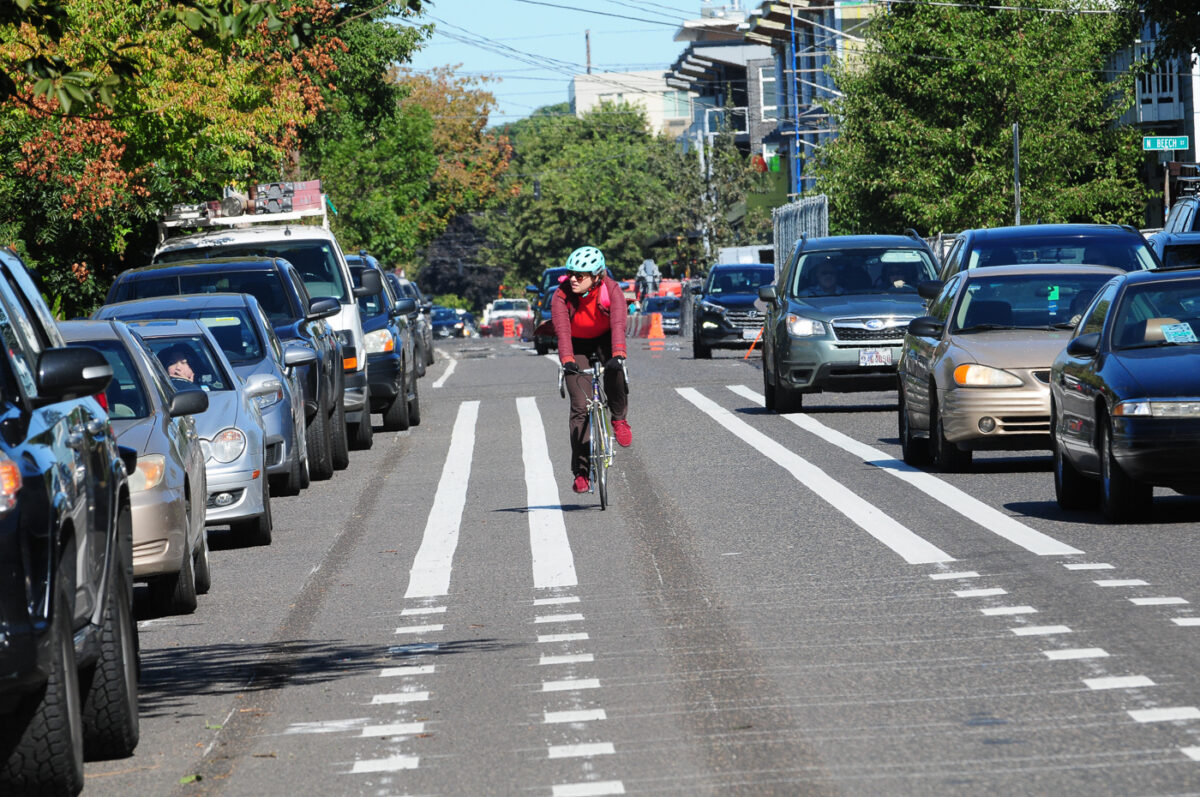 While the North Vancouver-Williams corridor continues to grow at a dizzying pace with new residential and commercial buildings popping up everywhere, the space allocated for driving continues to shrink. It's been almost five years since the City of Portland restriped Williams to give bicycle users more space. Now they're doing the same thing with Vancouver — albeit at a much slower pace and with much less fanfare.
In recent months we've noticed the bike lanes on Vancouver getting wider. First the striping changed south of Russell Street where a relatively standard-width bike lane has matured into a buffered bike lane that's just as wide as the one drivers use. The balance of power (related to how much space each mode has) on this street is slowly but surely becoming similar to what we have on SW Stark and Oak downtown (without the green coloring).
The most recent changes are on the two-block section between Beech and Cook.

(Click images for captions.)
PBOT has ground away the old lane markings and replaced them with a cross-section that gives much more room for cycling. Where the street used to squeeze in two parking lanes, two standard lanes, and one door-zone bike lane; it now has one fewer lane for drivers and a much wider — and buffered – bike lane. The new bike lane has buffers on both sides — away from moving vehicles and from the door zone. At the intersection with Fremont (at New Seasons Market), PBOT has striped a bike box and removed one parking space.
The changes give users much more breathing room at the busy Fremont/Vancouver intersection. For a sense of how it used to look see the image below…

It appears like this is a work in progress, so we'll see how it shapes up (and I've asked PBOT for more info). We're also waiting to see what PBOT does to improve the messy block between Fremont and Cook where we have to deal with drivers leaving the News Seasons Market parking lot and people swerving across the bike lane to get onto I-5. Two years ago PBOT unveiled a big plan to switch the bike lane to the left to avoid this conflict; but apparently shelved the idea after was panned by many bike riders. Given this new striping, it appears that plan is officially dead.
PBOT has also widened the bike lane south of Russell toward Broadway (see images below). Similar to the Beech-to-Fremont striping, PBOT has leveled the playing field so that bicycle users have the same amount of roadway space to use as car users (not counting the two auto parking lanes of course).
We love seeing more space for cycling, especially in such a growing and busy part of town. However, it would sure be nice to have more consistency so bicycle riders could count on having a wide and safe — and ideally physically protected — experience for the length of the corridor. Do you ride this section of Vancouver? What do you think of the changes?
Watch for an update to this story if/when I hear back from PBOT.
— Jonathan Maus: (503) 706-8804, @jonathan_maus on Twitter and jonathan@bikeportland.org
Never miss a story. Sign-up for the daily BP Headlines email.
BikePortland needs your support.