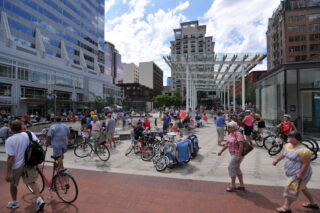 As this week's cover story in the Willamette Week makes clear, we aren't doing enough to make our streets safe for everyone. On Wednesday we had the 36th fatality on Portland roads, two more than all of 2018.
While those who work at PBOT and City Hall struggle to make progress on Vision Zero goals, they might want to take a look out their office windows. There are simply too many cars and too many people who use them irresponsibly.
Want fewer people to die? Want to unlock the vast potential of our streets? Want people to be healthier, wealthier and happier? If so, we must have a laser focus on reducing the amount of cars on the road. It's not enough to make incremental progress for bicycling, walking, and transit. As long as driving is perceived as being cheaper, easier, and safer, too many people will choose to do it too often.
Unfortunately, the same day we all read the powerful stories in the Willamette Week, Mayor Ted Wheeler — with PBOT Commissioner Chloe Eudaly (who should know better) standing right behind him — announced that parking would be free downtown tomorrow. This is a terrible policy that encourages the use of the most deadly, socially isolating, fear-inducing, and inefficient vehicles while squeezing out everything else. Wheeler's free parking gambit is an attempt to amp up downtown retailers after last weekend's protests. As such, he and his supporters have also perpetuated the false and dangerous narrative that free and abundant auto parking is necessary for businesses to make money.
And in a statement about Sunday Parkways released this morning, PBOT awkwardly touts ODOT's I-5 Rose Quarter project as one of "the emerging projects" worth noting as you walk and roll along the "Green Loop". The only thing emerging from that project is a stench from a rotting agency increasingly out-of-touch and at odds with Portland's transportation goals. Are we really using an open streets event to highlight a project that will expand a freeway and increase driving capacity through our central city? Oh how the mighty have fallen!
Along with the myriad compromises PBOT continues to make for driving convenience in "safety" and "vision zero" projects throughout the city (the lack of physically protected bike lanes on NE 102nd Avenue due to neighbor pushback about parking loss is just the latest example), it's very disappointing that our leaders continue to coddle car use.
The irresponsible abuse of cars is the source of many problems Portland faces. Our leaders must start to talk and act like it. I hope they see the magic of 30,000+ people using our streets during Sunday Parkways and realize it could be the rule, not the exception. As the contrast between Saturday and Sunday will surely prove, we need fewer free spaces for cars and more carfree spaces.
— Jonathan Maus: (503) 706-8804, @jonathan_maus on Twitter and jonathan@bikeportland.org
Never miss a story. Sign-up for the daily BP Headlines email.
BikePortland needs your support.