"How can you call yourself a bike-friendly town if you have people of color who are afraid to leave their house? How do you even accept these awards? It's a moral question."
Those comments are why Charles Brown (@CTBrown1911) is a name that won't soon be forgotten by the hundreds of people in attendance at his keynote speech during the Oregon Active Transportation Conference last week.
Brown, a researcher and transportation justice activist, delivered some very real talk to the policymakers, advocates, and agency staffers in the room — several of whom audibly gasped when he questioned our bike-friendly status viewed through a lens of racial justice.
Brown's presentation — which was equal parts funny, endearing, and searing — touched on many facets of how racial discrimination and mobility are linked. His comments had even more resonance in a place with as many white people as Portland where race-related missteps are still too common.
The comments came during a Q & A session when someone asked about a slide in Brown's presentation that read, "Transportation has been weaponized as a tool of oppression." A woman in the crowd (who was white) asked if the "weaponization" was assumed to come with malintent.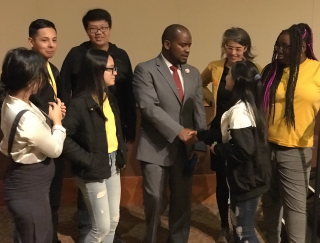 "Yes," Brown answered without hesitation. "Because history shows it was intentional." 
It's a history that is all too present for some. Brown's provocative comments about our "bike-friendly" reputation were inspired by an experience he had during a focus group session in Portland. He said he met a black muslim woman who said the only way she'd ride a bike in Portland is if, "Someone put a gun to my head."
Brown said he was taken aback. "I have no training on how respond to something like that," he said.
Brown's keynote was just one of many threads throughout the summit that wove between transportation and racial justice. It's a credit to event organizers at The Street Trust that many of the breakout sessions featured topics and conversations that put equity, inclusion, and race front-and-center.
We talk about these things a lot in Portland. I think it takes someone like Charles Brown for us to actually hear it.
— Jonathan Maus: (503) 706-8804, @jonathan_maus on Twitter and jonathan@bikeportland.org
Never miss a story. Sign-up for the daily BP Headlines email.
BikePortland needs your support.