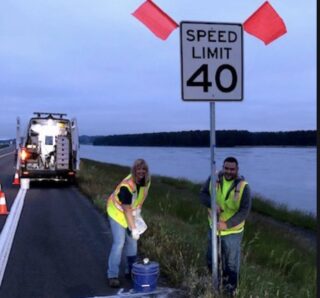 Marine Drive has been a problem child for the Portland Bureau of Transportation for years and the city hopes recent disciplinary actions help set it straight.
The road's design encourages dangerous driving and the city has tried all types of tricks to slow people down and prevent them from running into each other, or from running off the road and into the Columbia River — something that happens more often than you think.
In one week last month, two drivers failed to control their vehicles and ended up in the river. One of them didn't make it out alive.
The latest move is a speed limit reduction from 45 to 40 mph on an 8.5 mile segment between NE 33rd and 185th (Portland city limits). Last year PBOT lowered the speed limit west of this segment (from 40 to 35) and installed speed cameras at two locations (33rd and 138th).

Why the fuss? Consider these stats: Between 2012 and 2016, there were 189 total crashes on Marine Drive between 33rd and 185th. Those crashes included four fatalities and 144 injuries. Since 2017, six people have died while driving on that segment. Turns out streets that have no guardrails (it's built on a federally protected levee), are adjacent to industrial/rural zoning, have straight and clear sightlines and relatively few stop signs and traffic signals, are a petri dish for dangerous decisions.
And of course Marine Drive isn't just an arterial for driving on, it happens to be a vital part of the very popular 40-Mile Loop bike route and serves as a gateway to many popular areas.
PBOT says this is just part of their ongoing war on speeders and dangerous drivers on Marine Drive. The construction schedule for this summer also includes: a new traffic signal at NE 122nd, gaps filled in the existing path from NE 112th to NE 185th, flashing beacons at NE 112th and NE 138th), buffered bike lanes from NE 112th to NE 122nd, and centerline rumble strips from 33rd to 185th.
— Jonathan Maus: (503) 706-8804, @jonathan_maus on Twitter and jonathan@bikeportland.org
Never miss a story. Sign-up for the daily BP Headlines email.
BikePortland needs your support.