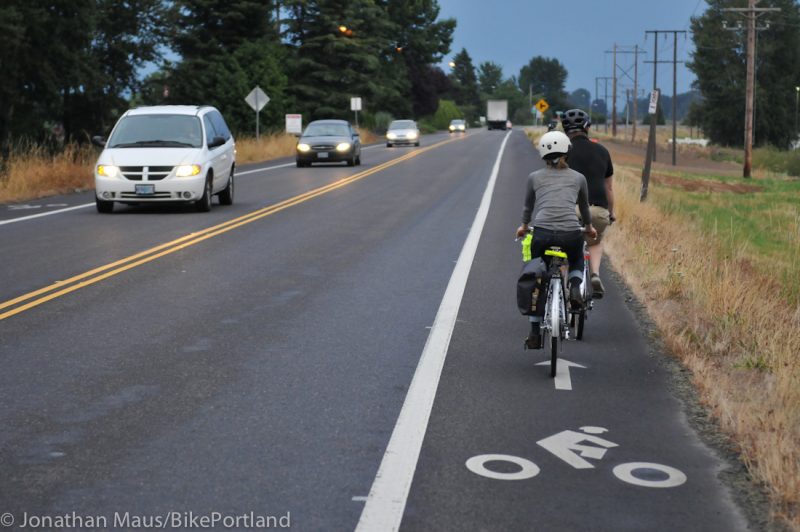 Slow down!
Current locations of speed cameras
SW Beaverton-Hillsdale Highway (between Hillsdale Town Center and SW Shattuck Road)
SE Division Street (between 148th and 162nd)
SE 122nd Avenue (between Foster and Holgate)
NE Marine Drive (eastbound near NE 33rd Drive, westbound near NE 138th Ave.)
24/7 speed enforcement is now a reality on one of Portland's most dangerous roads. After years of deadly crashes, the Portland Bureau of Transportation has just flipped the switch on two speed enforcement cameras on NE Marine Drive. The cameras started issuing warnings today and citations will start being mailed to violators on March 22nd.
PBOT has installed the cameras in two locations along Marine Drive where drivers have well-documented speeding problems. At NE 33rd Avenue, where a traffic study found 995 people a day driving at least 10 mph over the 40 mph speed limit. And at NE 138th, where PBOT found 485 people driving over 10 mph over the 45 mph speed limit every day. Underscoring the speeding problem on Marine Drive is the fact that the design of the road is very wide-open. Because it's on a levee where buildings and other structures are few and far between, there's very little visual clutter. That makes road users go way too fast. Add in the fact that there are very few traffic signals and a relatively narrow cross-section with just one lane in each direction in addition to bike lanes — and you have the recipe for disaster.
According to PBOT, the percentage of "lane departure" crashes on Marine Drive is more than three times higher than the citywide rate.
All of this is especially worrying because of the role Marine Drive plays as a gateway to popular riding destinations in the Columbia River Gorge.
Marine Drive is the fourth street to get what PBOT calls a "speed safety camera" ("safety" added for better public relations) after their successful lobbying for a state law in 2015 that gives the authority to install them. The first one was installed on Beaverton-Hillsdale Highway in 2016. And last year the city installed cameras on SE Division and SE 122nd. All these streets are on an infamous list of High Crash Corridors — roads that make up just eight percent of Portland's streets but account for 57 percent of our fatal crashes.
"Safety cameras are one of the best tools we have for slowing down traffic and saving lives," PBOT Director Leah Treat said in a statement released yesterday.
The results of existing speed cameras speak for themselves: PBOT claims that the amount of people who speed on SE 122nd decreased by 91 percent after cameras were installed. The number dropped by 71 percent on Division.
This is really great news.
Another bonus: State law requires that all the money received from speed camera tickets must either go back into the program or pay for safety projects on High Crash Corridors.
Learn more about PBOT's efforts to improve the safety of Marine Drive on their website.
— Jonathan Maus: (503) 706-8804, @jonathan_maus on Twitter and jonathan@bikeportland.org
Never miss a story. Sign-up for the daily BP Headlines email.
BikePortland needs your support.