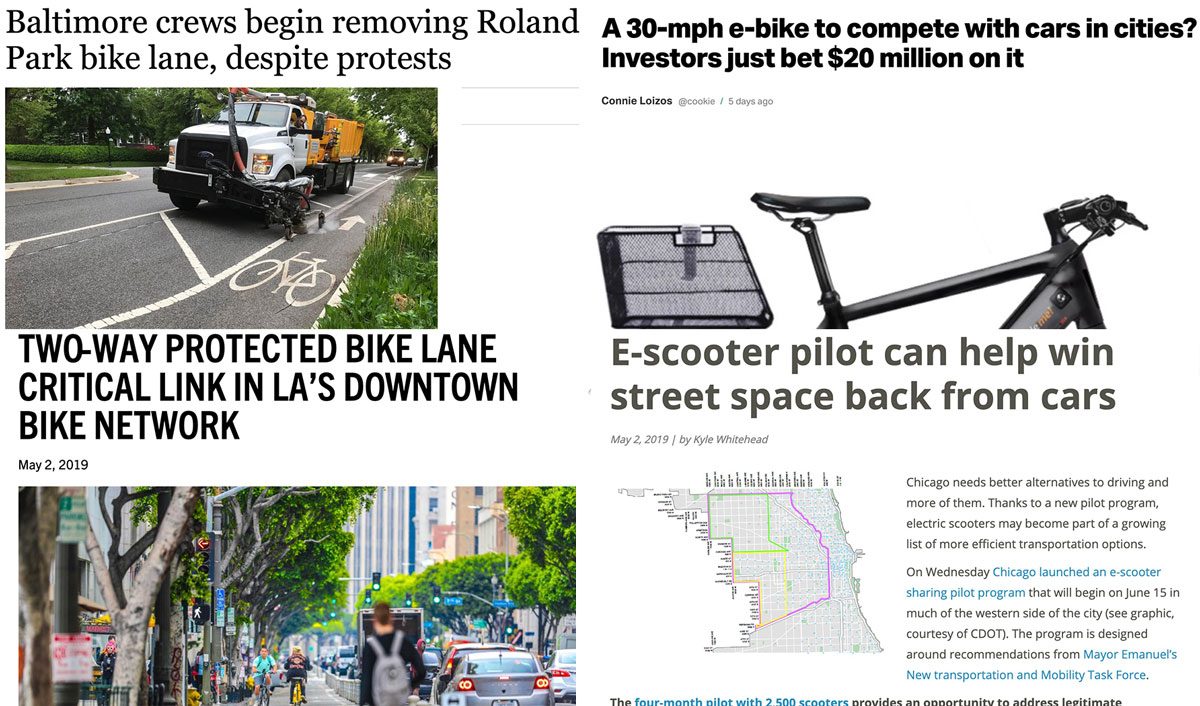 ---
This week's Monday Roundup is brought to you by the Community Cycling Center, who invites you to their 25th anniversary Momentum Gathering this Friday May 10th!
Here are the most noteworthy items we came across in the past seven days…
Safely breaking the law: This excellent piece from David Alpert at Greater Greater Washington says that not all traffic laws are equal and pretending it's safer for bicycle users to follow them is spurious.
Car storage is too cheap: WePark is a new initiative that aims to highlight the value of curbside real estate (a.k.a. on-street parking) and how absurd it is to give it away so cheaply to private car storage.
Bad Baltimore: When a politician says bicycling infrastructure must "work for all," you know you're about to get shafted. RIP Baltimore protected bike lane.
Welcome, scooter comrades: Chicago's Active Transportation Alliance is welcoming e-scooters with open arms in hopes the new two-wheelers can join their fight against auto users for more dedicated roadway space.
L.A.'s new bikeway: Los Angeles has opened up a two-way protected bike lane on a major downtown street.
Mode shift goals are no longer enough: The world's most iconic cycling city has announced plans to completely ban diesel and gas-powered vehicles by 2030.
Racing's "Unicorn Prince": Noted sportswriter Jason Gay has written a profile of the greatest bicycle racer of the current era: The incomparable Mathieu van der Poel.
Traffic injustice: A methodology that connected police data on traffic crashes to hospital records showed that older, lower-income, and people with black/brown skin are more often victims of traffic violence in San Francisco.
Protection matters: Not sure if we've shared this yet; but it bears repeating: New research shows the importance of physical protection (not parked cars, not paint) when it comes to bikeways.
Typical selfishness: Authorities in Germany have seized 120 high-end supercars that were allegedly racing on open roads at speeds up to 155 mph.
E-bikes for the win: I would love to see what would happen on our streets if we had access to high-performance, dockless electric bikes that could go 30 mph. How about a pilot of these PBOT?
— Jonathan Maus: (503) 706-8804, @jonathan_maus on Twitter and jonathan@bikeportland.org
Never miss a story. Sign-up for the daily BP Headlines email.
BikePortland needs your support.