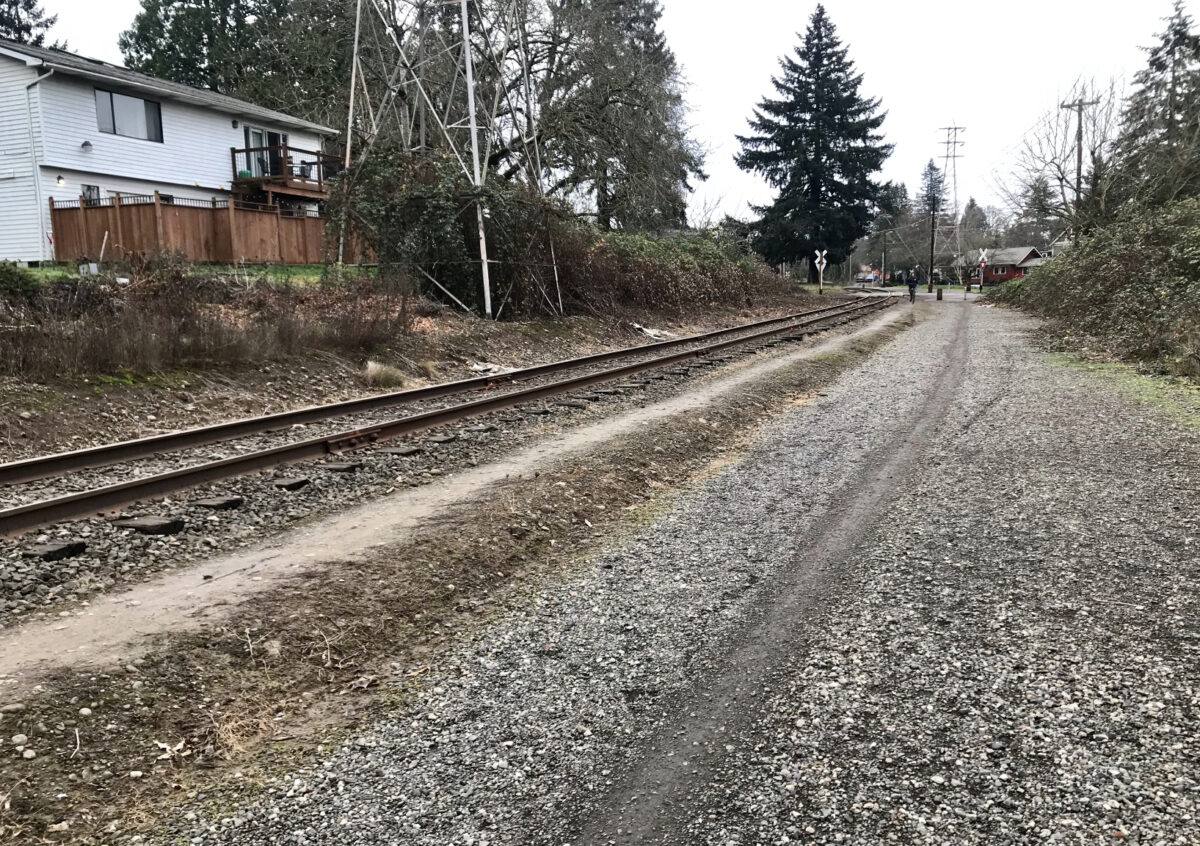 13 years after it was officially identified, the City of Portland plans to finally close a major gap in the Springwater Corridor.

Known as the Sellwood Gap, the popular paved path currently ends at SE Umatilla, forcing bicycle riders into a one-mile detour on surface streets before joining back up with the path at 19th and Ochoco (across from the Goodwill Outlet Store).
Now the Portland Parks and Recreation bureau is just weeks from breaking ground on a $1.83 million project that will close a half-mile of the gap — the section between Umatilla and 13th. Funding comes from a federal grant and Parks System Development Charges (fees paid by developers). Construction is due to start the first or second week of February and be completed by August of this year. Like other parts of the Springwater Corridor right-of-way, this section is adjacent to railroad tracks owned by Oregon Pacific Railroad. Metro, our regional elected government, acquired easements to build this section of the path in 2010.
The project will make a direct and seamless connection from Umatilla to 13th. Once complete, the new path will end where 13th becomes SE Andover Place, just outside the entrance to a enclave of homes adjacent to Waverley Country Club. Despite the stone walls that mark the entry to this neighborhood, bicycle riders are allowed to use the streets. As some of you may already know, this neighborhood provides a quiet and low-stress way to connect to the path on SE 17th that goes to Milwaukie (but rumor has it they are not fond of "bicyclists" so I won't be surprised if they make protest noises once this project is completed).
[pdf-embedder url="https://bikeportland.org/wp-content/uploads/2019/01/springwater-missing-gap-study-2006.pdf"](Springwater Missing Gap Report, Alta Planning + Design – 2006.)
By this August, the remaining gap in the Springwater Corridor will be only 2,000 feet (or 0.4 miles). In 2015, Metro negotiated the easement rights for the segment between 13th and 17th avenues. While there's not timetable for that section, Parks says the planning process has started. Once it's built we'll be a tantalizing 450 feet or so from a full connection of the path. That final section won't be as simple or cheap as adding pavement next to a rail line because the City of Portland will also have to build a safe crossing over 17th.
You can get a sense of design and planning recommendations for the future connection by looking through the 2006 Springwater Missing Gap Report embedded above.
Once this section is paved — except for a short stretch between OMSI and SE Ivon Street (thanks Ross Island Sand and Gravel!) — you'll be able to bike on a relatively carfree path for about 8.5 miles between the Rose Quarter and (south of) Milwaukie using a combination of the Eastbank Esplanade, Springwater, and Trolley Trail.
Note that no closures or detours will be required during this project. However, if you this section of path (which is unpaved, but open to the public), expect it to be closed during construction.
For more info, see the project website.
— Jonathan Maus: (503) 706-8804, @jonathan_maus on Twitter and jonathan@bikeportland.org
Never miss a story. Sign-up for the daily BP Headlines email.
BikePortland needs your support.