Posted by Jonathan Maus (Publisher/Editor) on September 22nd, 2010 at 10:47 am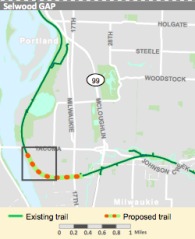 Map credit: Metro
Metro finalized an agreement yesterday that will allow them to secure the required easement rights to extend the Springwater Corridor Trail. The agreement will close more than half of the existing "Sellwood Gap" south of SE Tacoma Street.
According to a Metro press release, they reached an agreement with Oregon Pacific Railroad Company for $618,000. The agreement also included the sale of a 5,000 square foot property to Oregon Pacific in the Sellwood area.
The Sellwood Gap is a thorn in the side of many people in the Portland area. When the trail reaches Sellwood, the popular multi-use path snakes through residential streets for about a mile until the trail picks up again.
With the agreement this week, Metro will build more than a half-mile of trail alongside the train tracks, extending the trail between SE Umatilla and SE 13th Ave. Metro will work with the City of Portland to design and build the new piece of trail. Once the entire gap is closed, people will be able to ride 20 miles from central Portland to Boring without having to travel on surface streets.
Funding for this easement purchase came from Metro's Natural Areas Bond Measure which was passed by voters in 2006.
Jonathan Maus is BikePortland's editor, publisher and founder. Contact him at @jonathan_maus on Twitter, via email at maus.jonathan@gmail.com, or phone/text at 503-706-8804. Also, if you read and appreciate this site, please become a supporter.