As Portland's largest bicycle company, Chris King Precision Components is in a unique position to be an industry leader. With the success of their mini-summit of bike builders and industry movers and shakers that wrapped up with a big open house event Saturday, the 42-year-old company seems to be embracing that role.
The halls of the Chris King factory were jam-packed for the "Open House" show on Saturday. Among massive industrial machines and assembly rooms that put together some of the most respected and sought after bicycle components in the world, hundreds of bicycle lovers got an close-up look at a very special selection of bicycles and the builders who create them.
For the man behind the brand, Chris King, the gathering must have felt bittersweet. A framebuilder himself, King decided to cease production of his Cielo brand just over one year ago so his company could focus more closely on its core business: designing, making, and selling bottom brackets, headsets, and hubs. King, who still spends about three days a week in the shop, is obsessive about quality and his company makes nearly every piece of their products themselves (yes, even the bearings). Manufacturing products in the United States is hard enough without having to constantly react to the whims of product managers and marketers who seem to push a new wheel size, head-tube size or axle configuration every season.


During a conversation with King on Sunday (he was hard to miss, standing near the main entry with a badge on his chest that read, "Hello: My Name is Chris") he said he thinks product managers need to be more careful when it comes to changing standards, because there could be unintended consequences. "We moved away from 26-inch wheels so fast," he shared, "That change destroyed the used [bike] market overnight." "If people can't sell their old bike, they're less likely to be able to buy a new one," he added.
King is far from a luddite. He just wants the industry to be more thoughtful about the changes it pushes out to consumers. Promoting that message was a big part of the reason his company welcomed 18 builders and reps from nine bike brands (including Smith, Quality Bicycle Products, Fox Racing, Santa Cruz Bicycles, and more). There was an industry panel discussion on Thursday, a builder's summit on Friday (where King hosted the builders at his ranch house off NW Germantown Road), and the bike show capped it all off on Saturday.
While all the bikes were custom, they shared one thing in common: King headsets and hubs in a new matte mango or turquoise color.
Here are a few of the bikes that caught my eye (note that almost everyone brought a drop-bar "all-road/gravel" bike!):
English Cycles: One Off Custom (Frame: $3,200 As shown: $13,100 – website)

Rob English is a builder based in Eugene whose bikes reflect the type of riding he personally enjoys most: Going fast. He brought a gorgeous bike for a customer who wanted to maintain the handling properties of a traditional road bike but have room for wider tires. "If you're not racing, there's no reason to have narrow tires," said English, as he pointed out the bike's size 35 tires. 35s are big enough for most gravel roads and because English maintained the standard road bike geometry and wheelbase (via a curved seat tube), this bike should have no trouble keeping pace on fast group rides on the pavement. The integrated seat mast is also a nice touch because it creates a convenient place for a third bottle cage — not to mention it looks super cool.
---
Breadwinner: Find Your Road B-Road Special Edition ($8,620 – website)

Calling it their "most capable and supple 700c gravel bike to date" Tony Pereira and Ira Ryan launched the "Find Your Road" package at the show. Would-be owners have two weeks to order one. Highlights include a Columbus steel frame that can fit up to 45c tires, a custom (strapless!) bag from Andrew the Maker.
---
Simworks: Doppo (Frame: $1,600 – website)

Simworks is a Japanese brand that now has a full-time office in the Portland (inside Chris King no less). You might recall the profile I did of Simworks president Shinya Tanaka back in 2012. Now I'm happy to report that Simworks has contracted with Portland-based builder Oscar Camarena (Simple Bicycles) to make an all-road "Doppo" frame (Doppo is a Japanese word that means "going alone" or "working on something independently"). The aluminum frame can run 700c or 650b wheels.
---
Sage: Flow Motion ($9,965 – website)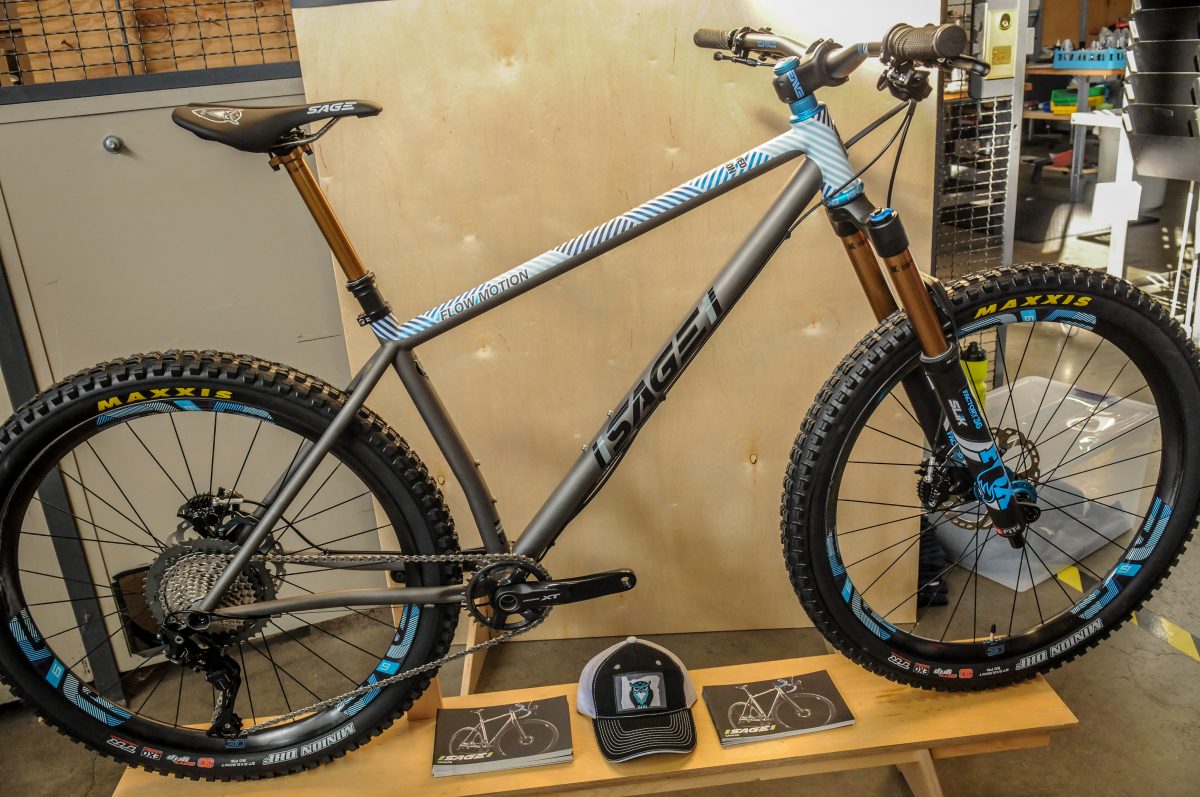 It's been over four years since David Rosen launched his Sage Cycles brand and he's showing no signs of slowing down. Rosen launched this gorgeous new titanium mountain bike on Saturday. Named after a popular trail in Sandy Ridge and made in Portland, the Flow Motion is made to "test the limits." "It's definitely not a cross-country bike," Rosen acknowledged, but it can climb just fine. With its tall front end and 150mm fork, this bike was made for fast berms and flowing jump lines.
---
Co-Motion Cycles: Klatch Pinion CTX ($8,990 – website)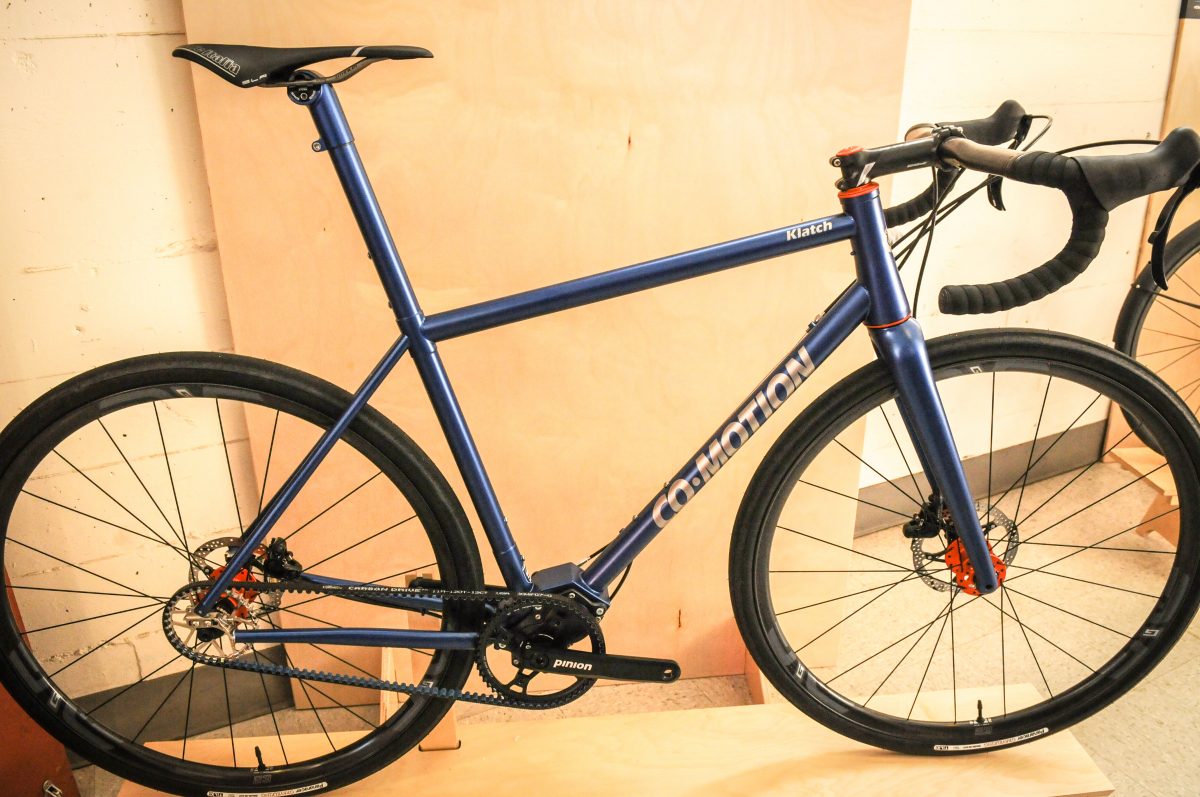 This was one of more innovative bikes at the show. Co-Motion's Billy Truelove built it for himself to see if he could create a fast, gravel-ready bike around the Pinion internal gearbox drivetrain. Another special feature of this bike is that the shifting is via a lever instead of the usual twist-shift Pinion's typically require. Co-Motion was able to source brand new levers just for this purpose from German company Tout Terrain.
Mosaic: GT1 ($14,500 – website)

---
Speedvagen: Rugged Road (website)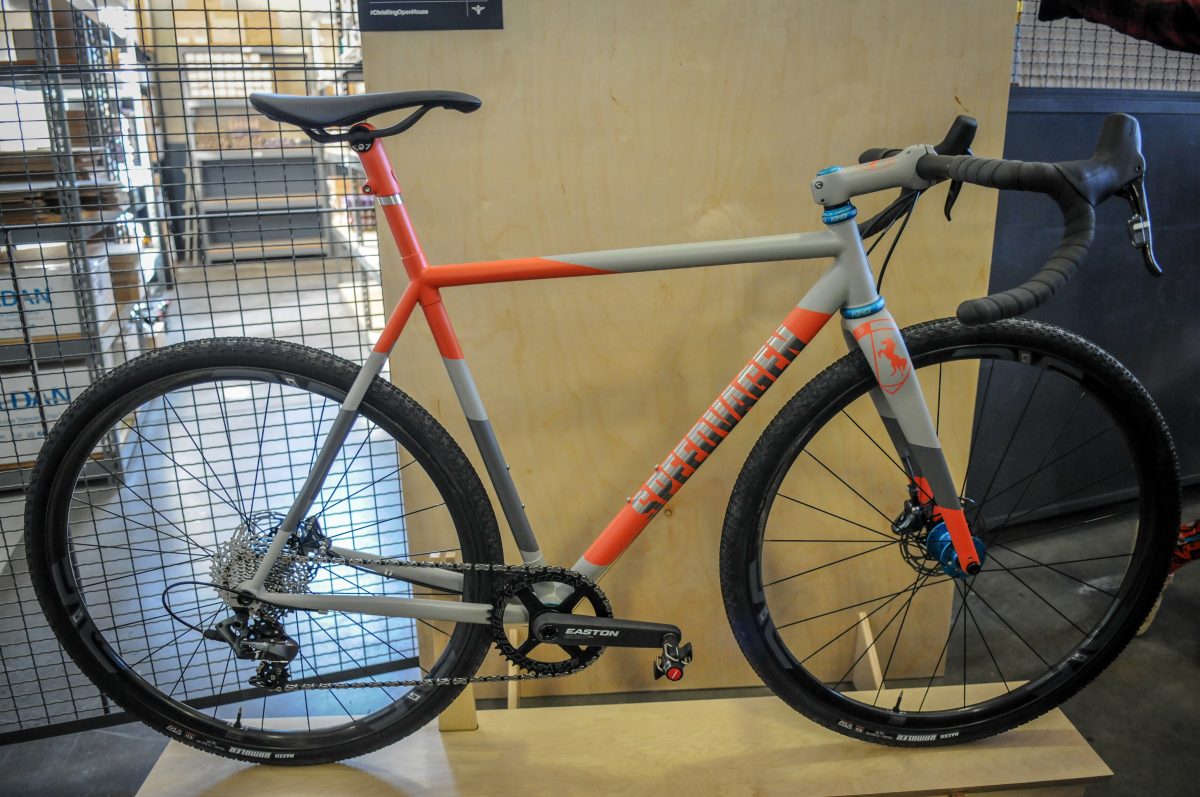 ---
Argonaut: GR2 ($13,200 – website)

Stinner Frameworks: Steel Refugio ($11,145 – website)

---
---
Spooky: Gas Mask Razzle Dazzle ($11,500 – website)

---
Given the success of this three-day gathering (and the big smile on Chris King's face while it happened), I have a hunch it will return next year even bigger and better. When it does, there one thing we hope changes: We'd like to see more women and people of color represented in the events. The local bike industry is full of much more than cis-gendered white men. If Chris King wants to be a leader in this space, they should keep in mind that representation matters.
For more photos and insights about bikes on display at the Open House, check out coverage from James Buckroyd over on BuckyRides.com.
— Jonathan Maus: (503) 706-8804, @jonathan_maus on Twitter and jonathan@bikeportland.org
Never miss a story. Sign-up for the daily BP Headlines email.
BikePortland needs your support.