From a garage and a small storage space in Beaverton, David Rosen has launched a new bike company: Sage Cycles.
Rosen, 41, created the brand in 2012 after he saw a niche in the market for bikes made out of titanium. "Ti", as it's known in the industry, is a great material for bikes because it's light, very durable, and offers a ride that can be the perfect blend of stiffness and compliance. The vast majority of bikes you see around town or at the races are carbon, aluminum, or steel. But ti, mostly because of its higher cost, is relatively rare.

A few years ago, Rosen was in the market for a new bike (he's an active racer who's competed in road, cyclocross, and mountain biking events). He wanted something different and something that would be tough enough to withstand his rigorous riding (he's broken two carbon frames and often races in the "Clydesdale" class which is open only to riders 200+ pounds). "I didn't want something that would be thrown away because the material had a short shelf life, or because the 'fashion trend of the day' had come and gone. And carbon is so commonplace, you're even seeing it on commuters," he said, as we rode through the rural backroads south of his home near Cooper Mountain Nature Park last weekend. One of his teammates at the time had a company that was importing titanium frames from China, so Rosen ordered one up. "I loved that bike," he recalled, "it was perfect."
David Rosen
Like many of us bike nerds Rosen's age, he came to love cycling through early romances with Mountain Bike Action and Dirt Rag magazines. It was in those publications that he first dreamed of owning a titanium bike. "I always wanted a Moots," he recalled, but the price (which, for high-end brands like Moots or Seven can easily reach $6-7,000) always kept that dream out of reach.
Once he realized you could import titanium frames from China, then build them up with carefully selected parts and sell them for thousands less, Rosen's wheels started turning. Not long after he ordered that first frame from his friend, Rosen had hatched a business plan and Sage Cycles was born. "The idea was to do a high-performance bike at a lower price point that would serve a portion of the community that wanted to get into titanium but couldn't afford a Moots."
Because his frames were coming from China, Rosen initially partnered up with Portland-based Ti Cycles to do thorough quality-control on each frame that came in. He kept Ti Cycles busy because quality problems were relatively common on his first frame orders. Because of Ti Cycles' expertise, most of the frames could be fixed (the others would be shipped back overseas), but having to do QC just added to the price of the China-sourced frames. Combine that with shipping costs, communication barriers, and the rising price of Chinese-made products in general (because of increasing labor prices and the strong yuan), and suddenly the big savings just weren't there.
Another issue Rosen experienced with China-made frames was that potential dealers cooled on the idea of selling the brand once they realized it wasn't U.S. made. "They loved the concept and the bikes in general, but I would lose them because of the China thing."

Rosen's testing grounds are the gorgeous backroads of Forest Grove.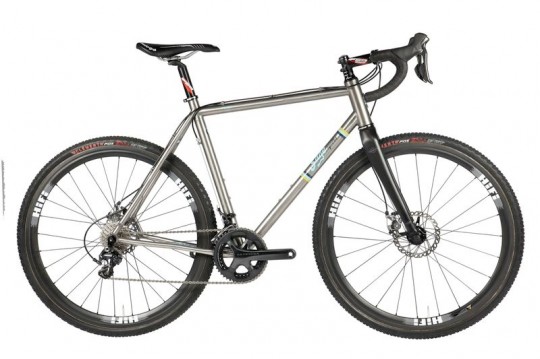 The Sage Cycles PDXCX starts at $4,350. The Skyline road model starts at $4,600.
(Photo courtesy Sage Cycles)
Rosen eventually bought out his partner due to creative differences and began looking for American factory that could build his frames. He settled on Tennessee-based Lynskey, a highly-respected name in titanium. And once all was said and done, the U.S. made Sage frames cost only about $200-300 more than the ones from China. "It just makes so much more sense to go this direction," Rosen said, especially when thinking about serving a customer who's already in the market for a $3,500-$4,000 bike.
The switch from China to the U.S. illustrates larger trends in the potential for domestic bike manufacturing and it has also had a major impact on Rosen's business.
Since he began sourcing frames from Tennessee, Rosen now wants to make the bike as U.S.-centric as possible. "Now I'm embracing it," he said.
"Being able to switch production from Asia to the US was a big step as it allowed us to look for different ways to tell the Made In USA story. As a small brand, to be able to say that our frames are the result of work done in four states (Oregon, Tennessee, North Carolina, and Rhode Island) is something I am really proud of and never thought I would be able to say."
Rosen's focus is on the burgeoning cyclocross market. Last year he had a booth at the local races where he offered free demo rides of his bikes. He plans to do the same this year. In addition to racing and running this company on his own, he'll be out there talking up his bikes to whoever will listen. It's a big job, but Rosen doesn't seem deterred. "The main lesson I've learned from building Sage Cycles is that if you have a vision for something, you alone must see it through to the end. Some people may help you achieve that goal while others may slow your progress down, but ultimately the success or failure of that vision rests on your shoulders."
— Learn more at SageTitanium.com and read this review of the bikes via the Bicycle Paper.
[Disclaimer: Sage Cycles is a BikePortland advertiser.]