Portland's largest bike industry company plans to throw open its factory doors next week.

"We're not anti-innovation, but how many times do you want to slam a consumer with something new every year? We're trying to see if we can be better stewards to the industry and the consumer as a whole."
— Jay SyCip, Chris King Precision Components
The Chris King Open House and Builder Showcase began in 2016 as a way to mark the component maker's 40th anniversary and highlight industry partners. This year the event has grown into a mini trade show that will feature 18 of the nation's top custom builders and nine major brands. It starts on Thursday October 11th with an industry panel discussion, then a builder's summit on Friday the 12th, followed by a public open house Saturday the 13th.
Chris King Precision Components Design Manager Jay SyCip says the growth of the event — from 350 people in 2016 to over 1,000 who attended last year — is a testament not only to the popularity of Chris King products but also to Portland itself. "The goal is to create something like a Portland Bike Week," he shared with me in a phone interview last week. "Portland is an important part of the bike universe as a city." SyCip hopes other local bike companies will follow their lead in future years and host open houses of their own in the same week.
The event follows an industry-wide trend of brands eschewing the large Interbike trade show and hosting their own, more intimate gatherings. A chance to hob-nob with the builders and vendors who buy their famous headsets and hubs will be valuable for Chris King; but SyCip wants the event to be about more than just doing business. Thursday's panel discussion will focus on the health of the industry at large and how bike shops can stay relevant to bike-lovers.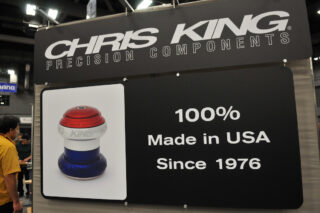 From new axle and wheel sizes, to frames that only fit a specially sized headset or bottom bracket — Chris King is concerned about the seemingly non-stop stream of changes that confuse customers and create headaches for bike shops. SyCip believes bike shops are a "barometer of the industry." "We're not anti-innovation," he said, "But how many times do you want to slam a consumer with something new every year? Can we make a progression plan? Can we be more future-proof? We're trying to see if we can be better stewards to the industry and the consumer as a whole."
Since Chris King is one of the rare companies that still makes their own parts, they have a vested interest in seeing a more sane rate of change. "All we do is chase people's tales," says Sycip. "Every switch in the industry puts us back on our heels." King also offers important perspective, given that their customers include people who still want the classic, 1-inch, threaded headset (similar to the model that launched the company in 1976); to some of the fastest professional bike racers in the world.
The idea of getting so many builders and brands in the same room is to encourage more collaboration and make sure that the "Innovate or die" mantra isn't killing off customers.
1,500 people are expected at the Saturday open house which will run from 12:00 to 4:00 pm at their headquarters in the northwest industrial district (2801 NW Nela St). The event will include a bike show, free coffee and beer, food from Verde Cocina and Grand Army Tavern, and factory tours. The industry panel and builder's summit on Thursday and Friday are by RSVP only (press is welcome to attend both events, email marketing@chrisking.com if you'd like more info).
Here's the list of builders and brands that will participate:
Builders
– Allied Cycle Works
– Argonaut Cycles
– Breadwinner Cycles
– Caletti Cycles
– Co-Motion Cycles
– DeSalvo Custom Cycles
– English Cycles LLC
– Moots
– Mosaic Cycles
– Retrotec & Inglis Cycles
– Sage Titanium Bicycles
– Sklar Bikes
– Speedvagen
– Spooky Cycles
– Stinner Frameworks
– SyCip Bicycles
– Ti Cycles Fabrication
– Black Cat
Brands
– Santa Cruz Bicycles
– ENVE Composites
– SRAM
– Stages Cycling
– QBP (Quality Bicycle Products)
– SimWorks USA
– Smith
– Fox Racing
– Alchemy Bicycle Company
For more details, check the BikePortland Calendar listing or the Facebook event page.
— Jonathan Maus: (503) 706-8804, @jonathan_maus on Twitter and jonathan@bikeportland.org
Never miss a story. Sign-up for the daily BP Headlines email.
BikePortland needs your support.
If you have questions or feedback about this site or my work, feel free to contact me at @jonathan_maus on Twitter, via email at maus.jonathan@gmail.com, or phone/text at 503-706-8804. Also, if you read and appreciate this site, please become a supporter.