Do you take your bike trick-or-treating? We do.


Our Family Biking column is sponsored by Clever Cycles.
➤ Read past entries here.
Except for last year, and what a mistake that was! Being bikeless led to an incredibly late evening — once we decided to call it a night the kids couldn't help but knock on every porch-lit door we passed as we hoofed it a mile to get back home, adding an additional hour to the night. In the past I've found it a bit awkward to wheel my bike along the sidewalk or street while the kids march from door-to-door, but being able to pedal away when we're done always makes it well worth it.
Beyond being an escape vehicle, here's why it's not that scary to bring the bike along on Halloween:
➤ Carrier of extra layers
It's usually cold on Halloween, and often wet. There's no shame in one's bike acting like a glorified shopping cart — so load it up with hoodies, gloves, and rain jackets to carry along until they're needed. And if you've got an indecisive trick-or-treater, toss a spare costume in it, too!
➤ Wheelbarrow of accumulated candy
Oh how I hate shouldering that increasingly heavy bag of overflow candy as we trudge through the spooky night. We (OK, I) like to visit a candy buy-back after Halloween so it's lucrative for the kids to grab as much heavy candy as they can and I let the show go on longer when I have my bike along to fill with the spoils.
"Helmets can make costuming easier since they stay put on your head and make a great platform for attaching stuff."
This year I'm going to try to get the best of both worlds on the 31st by 1) biking to trick-or-treating, 2) locking the bike up while we execute a loop, and then 3) walk the bike back home alongside the kids as they continue trick-or-treating. This works exceptionally well for starting early to do daytime trick-or-treating with local businesses (see PDX Parent: Portland-Area Daytime Trick or Treating for many locations). Last year the mile-plus walk to the business district was a bit of an ordeal, so biking over will be a treat. I'll leave my bike at a bike rack near the end closer to home and we'll walk down one side of Woodstock Blvd and back the other to retrieve the bike just when dusk hits. Then it's time to visit the woman near school who gives out full-sized candy bars and meander our way home.
I say "bike" singular since all previous years have seen my kids on my bike, initially my little city bike with kid seats and/or trailer, and now my cargo bike. Now they're old enough that they ride their own bikes most places. And since I don't want to wheel three bikes around, I'm planning to carry them on my cargo bike to keep things simple. But biking on three bikes to a trick-or-treat destination and locking up while candy collecting and then biking home is a great use of pedal power, too. In fact, I'd like to do this for some of the non-Halloween-Night Halloween events where arriving by bike will probably be much easier than arriving by car. I'm most excited for Tombstone Trick or Treat hosted by Friends of Lone Fir Cemetery 12-3pm on the 27th where historic Portland ghosts will hand out candy and chat about their historical lives. Sugar with a side of learning! Not that Facebook RSVPs are even a rough estimate, but "680 going, 8,800 interested" on the Tombstone Trick or Treat! Facebook event page makes me think biking over is definitely the way to go.
➤ Costumes on the bike

Are there special concerns for wearing a costume while biking? Seven years later, there's still no better tutorial than Lady Fleur's Six Tips for Bike Costume Success. I'll add that I think helmets can make costuming easier since they stay put on your head and make a great platform for attaching stuff. When my kids were littler and didn't mind my dictating their costumes I dressed them up as various bike infrastructure every year and affixing traffic circles to the tops of their helmets when they were neighborhood greenways was pretty cute! But back to costumes on the bike in general: basically don't wear things that will dangle dangerously into the moving parts of your bike, just like on normal days. I have a gory story about a pirate and a sword if you need convincing (he's fine now, but it wasn't pretty).
➤ Costumes for your bike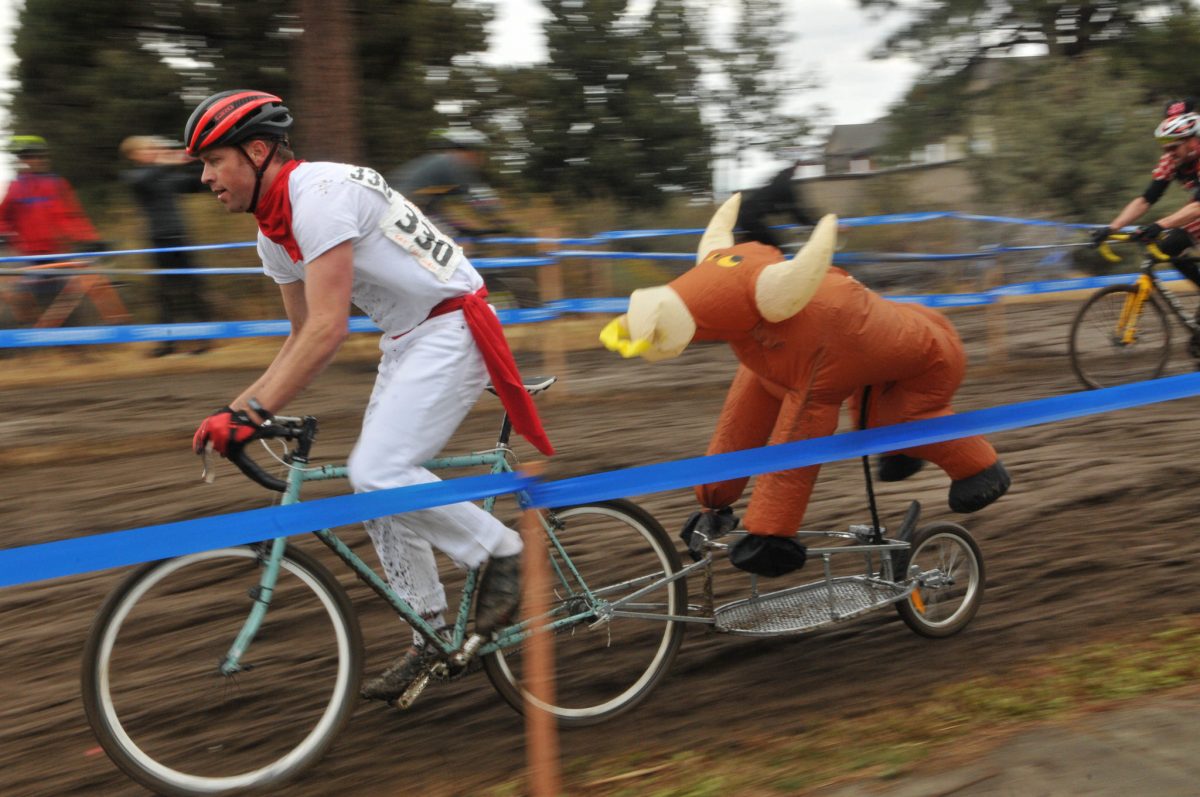 I haven't done a lot of bike costuming (and my photo is from Cranksgiving, not Halloween), but bikes make great frames for big costumes. Cargo bikes make it very easy, but even regular bikes can be turned into all sorts of things. Decorations running the entire length of the bike are tricky and may hamper turning, but keeping part of the costume confined to the handlebars and front rack/basket and the rest to the back of the bike, affixed to the top tube, saddle, or rear rack can make for lots of fun possibilities. If you dress up your bike as part or all of your costume this year, I'd love to have photos sent to me at madidotcom [at] gmail [dot] com and I can post them in my column after Halloween.
Please share your plans and insights in the comments! Thanks for reading.
Remember, we're always looking for people to profile. Get in touch if it sounds like fun to you. I'd especially like to feature families of color so please get in touch or ask friends of color who bike with their kids if they're interested in sharing their stories. And as always, feel free ask questions in the comments below or email me your story ideas and insights at madidotcom [at] gmail [dot] com.
— Madi Carlson, @familyride on Instagram and Twitter
Browse past Family Biking posts here.
Never miss a story. Sign-up for the daily BP Headlines email.
BikePortland needs your support.