*Watch how many people drive in front of this man while he waits for a chance to cross.
This post was written by our Adventures in Activism column co-editor Catie Gould.
On the evening of April 7th, Alex Hubert was crossing to the MAX platform to catch a northbound Yellow Line train back home when he was struck by a car. There was no police alert on Twitter. There were no news reports. But I was there.
This post is about my attempt to learn more about the safety issues at the intersection and find out why they haven't been fixed.
The day Alex was hit I was on a southbound train that pulled into the station minutes afterwards. After stepping out on the platform, the reason for the traffic back-up was obvious. An SUV was stopped in the left lane of Interstate Avenue. Alex was down, bleeding on the ground. Paramedics had not yet arrived. Like everyone else, I crossed against the walk light because traffic was stopped.
This intersection serves as a major connection for transit, connecting the MAX Yellow line with other MAX and bus lines in the Rose Quarter. It should be one of the safest locations to walk in our city, but years of injuries have gone unnoticed.
Since the City of Portland adopted Vision Zero in 2015, a publicly accessible map attempts to show all the injuries and fatalities on Portland roads. There are four injuries shown at this location, but due to the way data is collected, it could be another couple years before Alex's injury is added.
Because of what I saw that day, I wanted to know more about this intersection. Doing that turned out to be more difficult than I anticipated.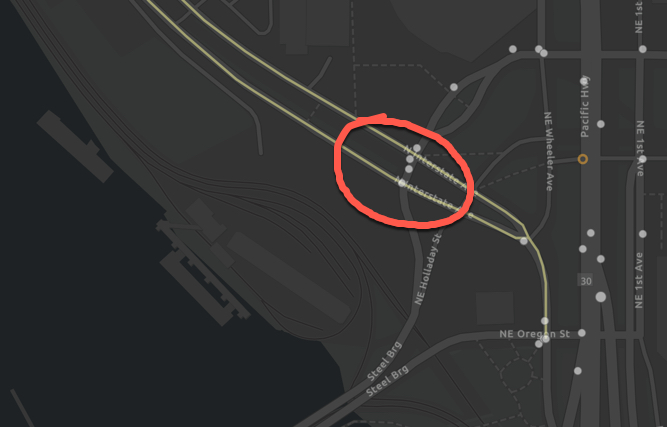 The Vision Zero map doesn't contain enough information about the circumstances of crashes to be useful. The Portland Bureau of Transportation collects some police reports, but was not able to share any with me. This meant I had to file public records requests with the Portland Police, a process that takes $30 per report and weeks to months of waiting.
Once I received it, the police report for that April 2018 collision concluded Alex had crossed against the walk signal, and was therefore at fault. When police interviewed him at the hospital, Alex had no memory of the crash. He had blacked out from his concussion, waking up inside an MRI machine. Another driver who had already left the scene and left their contact information with the driver of the car, was the only third-party interviewed by the responding officer. Here's what PPB Officer Daniel Ring wrote in the report:
"The pedestrian was sprinting from East to West on Multnomah St and ran through Interstate Ave. She [witness] believed he was even outside the crosswalk. Traffic in the slow lane on Interstate Ave was heavy and jammed up. The pedestrian ran through traffic/vehicles in the slow lane, dodging them, before running into the passenger side of the involved vehicle in the fast lane."
Crossing Interstate Avenue to get to the MAX platform is notoriously difficult and people cross when they can, instead of by the signal. In a similar collision that occurred on the morning of January 11th, 2012, three witnesses told police that a person was struck while walking to the MAX platform by a northbound vehicle who had a green light. According to the crash report, Daniel Whipple did not remember what the walk signal was and said when people started to move, he just walked with them.
Police cited Whipple for failing to obey a traffic control device and failing to yield to a vehicle. A PPB officer visited him in the hospital and left the ticket in a bag next to his bed with the rest of the his belongings. The officer noted in his report that, "I regularly patrol this area and know from experience that pedestrians regularly disregard the traffic control devices there."
A PPB officer visited him in the hospital and left the ticket in a bag next to his bed with the rest of the his belongings.
Crossing with the signal is not much safer. Two years later on the rainy afternoon of January 8th, 2014 a man turning right from Multnomah to Interstate struck and knocked over a woman using a motorized wheelchair who was crossing to the MAX platform. In this case, both the driver and the woman in the crosswalk had a green light. Surprisingly, this type of signal timing is common, says Dylan Rivera a spokesperson for the Portland Bureau of Transportation.
In response to my inquiries, Rivera said that, "Aside from the intense public transit use there, this intersection is, generally-speaking, not unique."
It turns out I'm not the only one who's been concerned about this intersection. A woman named Erin Moreland reported this signal conflict on a different leg of the intersection to the city's 823-SAFE hotline in the summer of 2016. Back then she took the Yellow line to the Rose Quarter and walked the rest of the way to her job downtown several times a week. After a few experiences of drivers not yielding to her she filed a safety concern on the website.
"As a pedestrian, crossing NE Multnomah on the west side of Interstate Ave, there is a 'walk signal' at the same time as drivers traveling south on interstate have a green light for turning right onto Multnomah- where pedestrians are crossing. This feels dangerous, and several times I have had drivers not yield to me and instead drive through the pedestrian crossing area when technically I should be crossing at the same time."
Moreland's 823-SAFE ticket was reviewed two months later and subsequently referred to PBOT's Signals and Street Lighting division under a new number. From there, the paper trail stops. At the time of this publication PBOT was unable to provide any documentation of an investigation. No action seems to have been taken.
The day after the crash I went back to the Rose Quarter and watched how people used the intersection, hoping to settle my feelings about what I'd seen. I witnessed a man using a walker attempt to cross the street. The walk sign turned on. He waited as person after person turned their car right across the crosswalk — eight drivers total. By the time all of them had passed through, the walk signal was long gone, and the man crossed against the light.
Despite the numerous injuries here, this intersection has not been identified for any improvements. Upgrading the signal timing here is complex because of the multiple transit signals and an outdated traffic control system. A spokesperson for TriMet toldme they'll be replacing the tracks and upgrading the signal controller for the Rose Quarter in 2020. The new signals will allow for increased train movement, but no safety upgrades are planned as of yet. PBOT's Rivera said on Wednesday they've raised this issue with TriMet and staff from both organizations have recently met to discuss the project.
There are probably hundreds of other intersections like this one across Portland. They have a history of close-calls and injuries, but aren't deadly or sensational enough to be picked up by the media or be the focus of a PBOT initiative. And as I've shared in this post, information that can help concerned Portlanders like us take action or follow-up — such as the status of 823-SAFE complaints, or crash details available only in police reports — are hard to come by and not publicly available.
To achieve Vision Zero — to, "eliminate deaths and serious injuries on our streets by 2025" — we'll need to make information like this easier to come by. Without a doubt we are missing other opportunities, and more people will get hurt until we do a better job of noticing.
Alex is feeling better these days. His broken ribs have healed, but he still has a persistent pain in his knee and still uses the MAX to commute downtown from his home in Vancouver, Washington. When I contacted him this week about the incident he said, "I'm glad I don't remember it."
— Catie Gould, @Citizen_Cate on Twitter
Never miss a story. Sign-up for the daily BP Headlines email.
BikePortland needs your support.